Odoo is a suite of business management software that covers every business need and function, while also being affordable and easy to use. Exploding in popularity worldwide as an affordable ERP system, what makes Odoo ERP different is its modular software architecture. While many large players in the ERP market are modular, they require a set number of modules to be integrated in order for the system to function properly. Odoo, however, will function perfectly well whether operating a single module or the full ERP suite of modules. 
Let's take the Accounting module for example. If you're considering a standalone accounting software for your business, wouldn't it be great to implement an accounting software that could guarantee the ability to scale as your business and complexities grow? That is achievable with Odoo. The ability to start with one, affordable (actually, free! But more on that later) and easy to use module which can be added to, one module at a time, to build a full suite of modules to suit the exact needs of your business. This modular architecture of the Odoo platform also makes it the most affordable solution. Hence, this software is now accessible to businesses of every size!
What are ERP Modules?
ERP modules are components of an enterprise resource planning (ERP) system. They are software programs that manage specific business areas. Together, the modules form an integrated ERP system, where each module interacts, exchanging information in real time. 
Popular ERP systems like Microsoft Dynamics 365, NetSuite and Salesforce Relate are designed to suit the needs of large corporations. Small to mid-sized businesses or business owners with more modest needs often find these systems too expansive and expensive. Moreover, they don't require all the features included in these systems. That's why growing businesses often look for alternatives that offer the right mix of ERP modules, or at least the ability to begin with their immediate requirement only and scale as the business grows.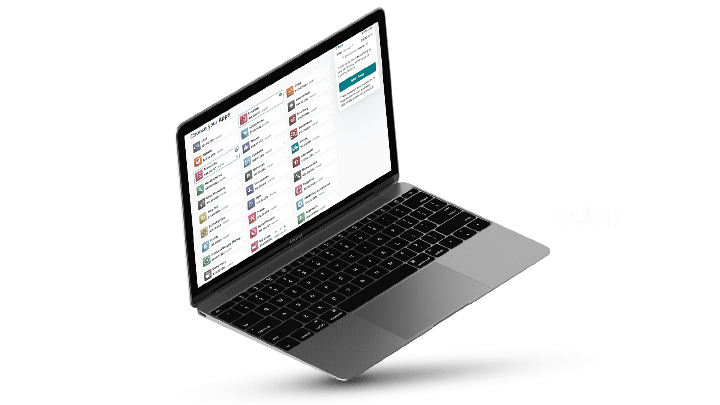 Are Odoo Modules free?
Yes…..and no. In the Accounting module example, if you use Odoo's pricing calculator, you will find the Odoo Accounting app includes the Invoicing app. These apps come together for free (as one is required for the other to work), with unlimited users as long as you don't require more apps or hosting options. This is an example of Odoo's "1 free application", where a single app is free forever for unlimited users until you add on or require more apps. Once you use more than one app, you begin paying a per user monthly charge. And in 2022, this monthly charge now includes ALL of Odoo's apps! Yes, you can have them all!
What is the difference between Odoo modules and apps?
Often, the term module and app are used interchangeably. Modules are the building blocks of Odoo applications, individual pieces of code that extend and/or introduce functionality. Whereby apps are a collection of modules with a configuration option to perform a specific function directly for the user, or another application.
How
 many Odoo Apps are there?
Odoo has 46 core applications that form the ecosystem of the Odoo Enterprise offering which supports all main business functions. These include website, HR, Marketing, Sales, Finance, Services, Inventory & Manufacturing, Productivity, and Customisation. In addition to this, Odoo's app store has over 40,000 paid and free apps available, making it the worlds biggest enterprise app store in the world.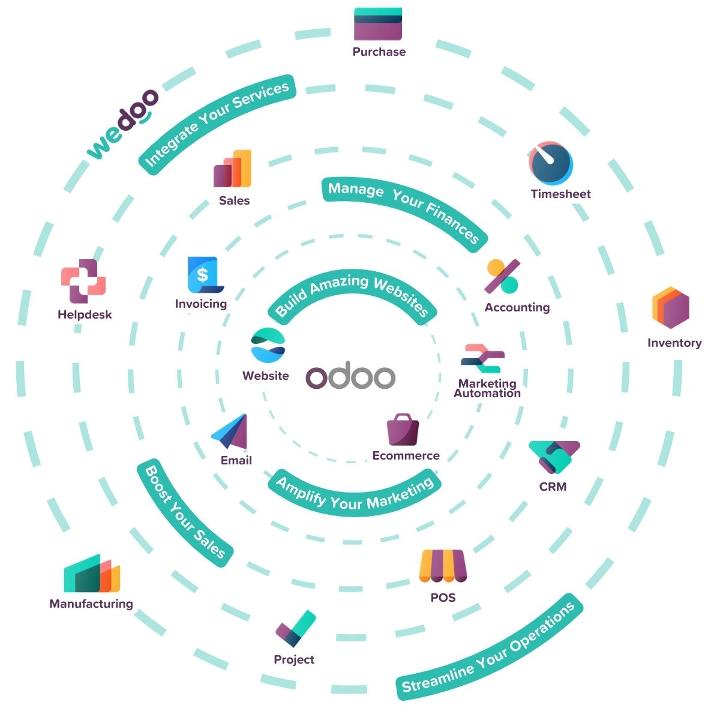 What are the core modules in Odoo?
A complete list of Odoo modules:
Website:
Website Builder
eCommerce
Blog
Forum
eLearning
Live Chat
Sales:
CRM
Sales
Point of Sale
Subscriptions
Rental
Finance:
Accounting
Invoicing
Expenses
Documents
Sign
Inventory & Manufacturing:
Inventory
Manufacturing (MRP)
PLM
Purchase
Maintenance
Quality 
Customisation:
Human Resources:
Employees 
Recruitment
Time Off
Appraisals
Referrals
Fleet
Marketing:
Marketing Automation
Email Marketing
SMS Marketing
Social Marketing
Events
Surveys
Services:
Project
Timesheet
Field Service
Helpdesk
Planning
Appointments
Productivity
Discuss
Approvals
IoT
VoIP
Knowledge (NEW! Released with v16 in 2022)
How many ERP modules do I need?
If you are considering implementing an Enterprise Resource Planning (ERP) system, the number of modules you need depends on the size and needs of your organisation. Generally, large organisations will need more modules than smaller ones. The most common modules found in ERP systems include financial, human resources, manufacturing, supply chain management, and customer relationship management.  
In addition to the core odoo modules, there are over 17,000 apps available on the Odoo App Store that can be installed to customise and extend the functionality of your Odoo system. 
The beauty of Odoo's modularity is that all apps are included in the per user monthly fee. So no matter how many apps you use, you're only going to be paying the user fees!
What are the benefits of using Odoo ERP modules?
4 benefits of using Odoo ERP modules:
Increased Efficiency: By automating tasks and integrating information from various departments, Odoo helps reduce inefficiencies and duplication of effort.
Improved Customer Service: Odoo can help track customer interactions, orders, and support requests. This information can be used to improve customer service by providing quicker and more personalized service.
Enhanced Business Insights: Odoo's reporting and analytics tools can help businesses gain insights into their operations, helping them make better decisions.
Reduced Costs: Odoo can help businesses save money by automating tasks, reducing paper waste, and reducing manual data entry.
Affordable and Fully integrated ERP Software:

ERP solutions have typically been

out of reach for many businesses due to the cost to implement and maintain. Today, ERP software can be built one app at a time to create software solutions that fit the exact needs of businesses as and when they need it.
How can businesses customise Odoo ERP modules to suit their needs?

You can customise Odoo modules to suit your specific needs.
It is recommended that you work with a trusted Odoo Partner to customise the Odoo ERP modules. Because while Odoo is open source (so the code is openly available to developers to customise), customisations need to be built in a way that can be easily updated as new versions of the software are released. 
 An experienced Odoo partner can therefore customise Odoo ERP modules to suit your business needs by altering the code to fit your detailed specifications. 
What are some challenges businesses face when using Odoo ERP modules?
The first challenge is that businesses must understand their requirements clearly before engaging with an implementation partner and selecting Odoo modules. 
The second challenge is that businesses need the technical knowledge and resources to properly implement and customise Odoo modules. Without these resources, the modules may not work as intended or may not work at all. The only way we would recommend the implementation and/or customisation of Odoo ERP modules is through an Odoo partner with trained Odoo consultants. The bad reviews online regarding Odoo implementation are the result of businesses trying to do it themselves and/or working with a team of developers who lack Odoo specific experience.
Finally, businesses need to have a plan for how they will use Odoo ERP modules to automate their business processes. Without this plan, it's difficult to know which modules to use and how to use them effectively. This is another benefit of working with experienced Odoo consultants. With extensive product knowledge, your Odoo partner can recommend which modules you do (and don't) need to optimise your business processes.
In conclusion, Odoo is a powerful ERP system that offers a wide range of features and modules to help businesses streamline their operations. While it can be overwhelming to implement an ERP system, the benefits of Odoo modules are in the ability to space the implementation into steps or phases of immediate needs, and nice to haves. Ultimately, working towards a complete suite of Odoo ERP modules that will optimise businesses from infancy through to maturity.