A recent ERP report found that the average budget per user for an ERP project is $9,000. That could result in a mid-sized business paying anywhere between $150,000 and $750,000 to implement an ERP system.
However, there is a new generation of ERP software in the market that is seeing far more cost-effective ERP solutions becoming viable from small businesses of only a few users through to larger businesses with hundreds of users.
Implementing an ERP system has always been a large investment for any business. It forms the backbone of the organisation, contains a multitude of business tools and is incredibly valuable to every business that successfully implements the right solution. With modules covering all core business functions like CRM, HR, Accounting, Inventory and Manufacturing, an unsuccessful ERP implementation can equally wreak havoc. Choosing the right ERP vendor and/or ERP implementation partner for your business is more critical than price alone.
When questioned about the comparison between Netsuite and Odoo, Fabien Pinckaers, founder of Odoo pointed out that while it was always able to offer superior performance compared to Netsuite in terms of functionality, many prospective customers were deterred by its significantly lower price point. To build trust that Odoo offers both a better function and cost-effectiveness than its rival, there needed to be an explanation as well as understanding regarding this difference.
To really put this into perspective, let's first look at a cost comparison of the Top ERP Products on the market:
Cost Comparison of the Top ERP Systems on the Market: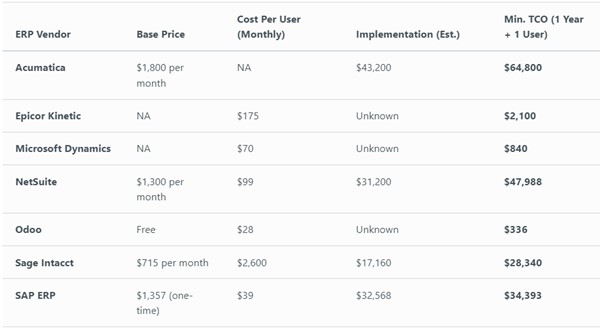 Source: Software Connect
The table above shows Odoo is by far the cheapest ERP vendor. 
We know that powerful ERP systems are a big investment, so why is Odoo so comparatively cheap!? How can cheaper be better. 
Unlike established competitors SAP and Oracle, Odoo was born with the advantage of being a digital native. This unencumbered perspective allowed them to design a product that customers demanded and desired without any technology debt holding them back. Additionally, they chose to develop software in-house versus simply acquiring it which avoided the need for patching different systems together. With these impressive advantages, Odoo has become an industry leader within modern business circles.
In the words of Fabrice Henrion, Odoo's director for the Americas and employee #19, "If you start by selling to big companies, you take on the characteristics of big companies. Slow, cumbersome, bureaucratic, stratified… and then it becomes very hard for you to sell to smaller companies that require speed from their vendors and products. Having started off selling to SMEs, we remain nimble and humble." 
And while tech giants all over the world lay off staff and retrench, Odoo certainly is not. You can read more about Odoo's growth playbook here.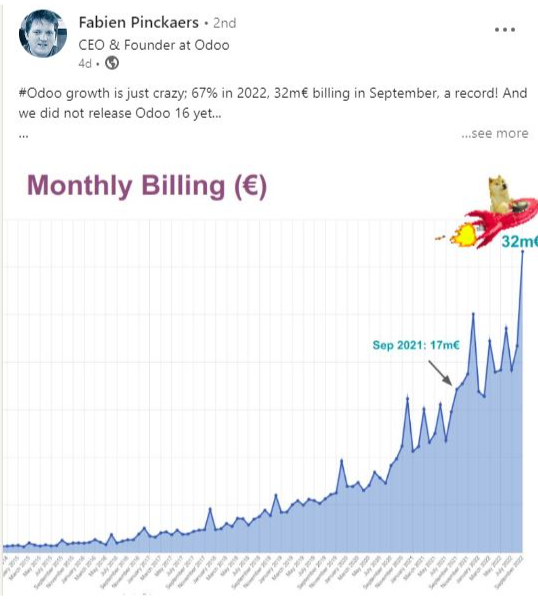 What else affects the cost to implement an ERP system?
Implementing an ERP or transferring to a new one comes with numerous considerations when calculating the cost. The size of your business, range of the project, deployment method and level of difficulty are all factors that will influence the total amount needed for this venture.
Factors That Affect ERP Implementation Costs
An ERP implementation is more than just a software purchase. Various factors can affect ERP pricing, including: Number of Users & Company Size: The size of your company and the number of users who will need access to the ERP system will affect ERP pricing. While some ERP systems like Acumatica offer unlimited user licenses, you pay for every module required. Microsoft and Odoo on the other hand, charge on a per-user basis. Larger companies spend more on ERP implementations because they have more employees and data to migrate onto the new system.
Customisations: Often, ERP systems are not one-size-fits-all. Many businesses need to customise their ERP to fit their specific business processes. The cost of customising the ERP system will depend on the complexity and number of features needed. This can include creating custom reports, integrating with 3rd party applications, or developing a mobile app for your ERP system.
Implementation Strategy: The way you implement your ERP system can affect the total cost. For example, if you decide to go with a full-scale implementation of the software, this will require more time and resources from your team and may incur additional fees from consultants.
Deployment Method: The way you deploy your ERP system will also affect the total cost. On-premise deployments require IT infrastructure that must be maintained. Cloud implementations can save money in the long run but may incur higher upfront costs depending on the hosting provider.
Training/Customer Support: The cost of training and customer support may not be included in the ERP pricing. You need to factor in additional costs for onboarding your team and providing ongoing technical support. This is especially important in the immediate weeks after and up to 3 months post-go-live of a new system. This is where the staff really needs the support to navigate the full system and is often where budgets blow out.
Software Maintenance & Upgrades: ERP systems need regular software updates and maintenance. Depending on the ERP system, there may be additional fees for these services that you need to budget for.
How to Prevent An ERP Implementation Budget Blowout?
At Wedoo, we take the time to understand your business and scope out your ERP projecy with care and precision before presenting a quote that includes all the cost factors mentioned above. That means, upfront, you have the total cost of ownership of a new system. No surprises, and no budget creep if you require extra support after the system goes live.
That's how we've built our reputation as a leading ERP implementation partner in New Zealand. And, we are Odoo experts, ensuring you get the most powerful, cost-effective ERP system implemented in your business with the added security of that known TCO.
Talk to an ERP consultant today to get started.