There is an entire ecosystem of Odoo modules and apps.  Odoo DMS is just one module within this suite of market-leading business management apps that is revolutionising the way in which businesses share, collaborate, store and organise documents.
Table of Contents
---
Why is a document management system essential?
What is Odoo DMS?
What makes Odoo Documents different to traditional document management systems?
Key features of Odoo Documents.
3 big ways an integrated document management system will benefit your business.
Why Is A Document Management System Essential?
For businesses to thrive today, systems and processes must be in place that help to effectively utilise employees time. Efficiency is the reason a Document Management System (DMS) is essential for a smooth-running operation, where employees have access to the right information at the right time. In the construction industry for example, real time access to documents, design changes and revised drawings can deliver huge efficiencies and keep work happening onsite.
For many businesses, an effective Document Management System has become essential to operate efficiently within their new normal. With Covid dictating the remote working arrangements of many, a good DMS empowers teams to do more in less time, regardless of their location. 
An effective DMS will support every level of your organisation and streamline your entire workflow for increased efficiency. Sales & Operations can improve win rates and reduce the sales cycle by automating the signing process of contracts. Human resources & staffing can improve the hiring processes and interactions with applicants by sending electronic evaluation forms and employment contracts. Tax and accounting/administration will enjoy greater efficiencies by easily keeping track of all documents, delays and procedures. All documents available electronically at all times.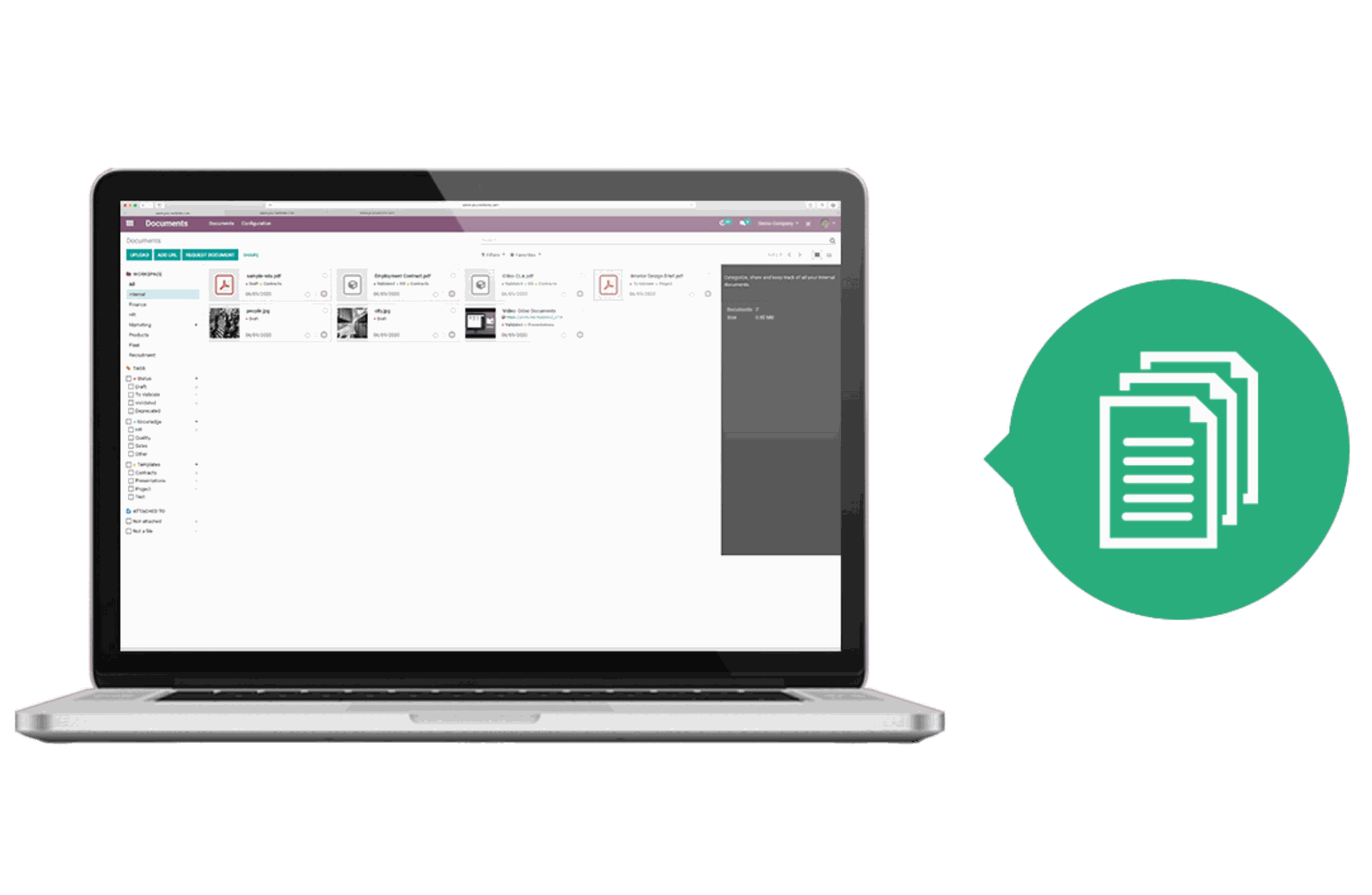 What is Odoo DM
S?
Odoo DMS presents a fully integrated and paperless approach to document management for small, medium and enterprise level businesses. The module provides a single point of access to all documents where they can be sorted, filtered and grouped based on a number of parameters.
The overall achievement of the Odoo document management system is to allow you to do more in less time by having everything where you need it, instantly available. Turn long, manual workflows into actions that take minutes. Signing contracts for example, can be actioned in a few simple clicks, finding a missing receipt is completed with just one search. Easily track all your files and never lose one because they are all organised and stored together, securely.
Particularly important at a time when employees are increasingly working from home, the online preview of documents enables the user to view the document without having to download. This makes working from anywhere, anytime, on any device not only possible but fast!
Documents can be tagged, activities related to that document can be scheduled and the ability to chat about the document is hosted all in one place. Video collaboration is a favourite feature due to the ability to live chat and work on documents in a collaborative manner, all in the one platform.
Check out the below intro video to the document management Odoo app.
What makes Odoo Documents Different To Traditional Document Management Systems?
The features and functionality of Odoo's document management system extends far beyond your traditional DMS. So much so, you could consider Odoo Documents to be the reinvention of DMS.  The Documents app is fully integrated with all Odoo Apps including:
Product Lifecycle Management (PLM) – Manage engineering changes and versions easily with real time communication.
Sign – Automate the signing process of your contracts.
Accounting – Turn quotes into professional looking invoices in one click
Projects – Manage project forecasts, teams, and files. Easily delegate tasks and monitor each step of the project.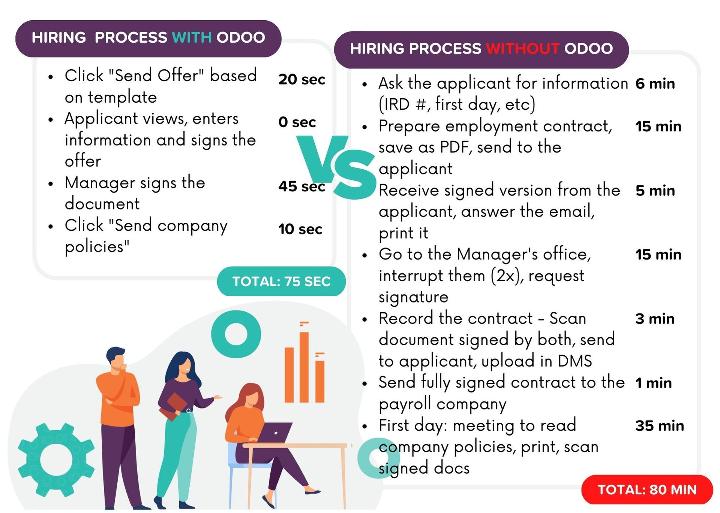 Key Features Of Odoo Documents
Chatter & Video Collaboration
This feature takes top spot due to how it optimises document collaboration in a time where many in the world have either chosen or been forced to work from home. Just like a chat forum, the Documents app allows you to "chatter" and video calling enables smooth, live collaboration within a single platform where a document can be viewed and edited collaboratively.
Assign documents to your colleagues, customers, or vendors. Share files and public folders with your clients directly or let them import documents themselves.
Streamlined Workflows
A fully integrated approval, control and validation process with activities, chatter, and action rules to make sure everything gets done by the right person at the right time.
Email Gateway
Using the email gateway, bills are created automatically from a scanned document or directly from your vendor's email.
Seamless work with Sign
Eliminate the need for printing and scanning documents in order for someone to sign. Instead, assign them to the right person, get them e-signed, and have them sent back directly. Batch Processing
Work in batch by requesting approvals, changing folders, tagging and assigning multiple files at once instead of one by one.
User Friendly
Like all of Odoo's apps and modules, usability is a key feature. Inherently intuitive, users can schedule activities by clicking the clock icon on any document. Similarly, marking documents as important is as easy as clicking the star icon. While quick view of documents is done by clicking the document icon. Super simple.
Spreadsheets
You can create and pull standard reports or create new ones all within the Documents app. Using familiar functionality to other spreadsheet apps already in the market, this feature is easy to use and intuitive.
Document Splitting Tool
Easily organize, split and extract pages from multiple PDF documents. The Document Split tool can even split specific pages and link them to an action. 
OCR / Optical Character Recognition
A true move to digitisation with OCR allowing you to convert different types of paper documents into editable and searchable data. 
Access Rights
Ensuring access to those who need it, when they need. Access rights can be applied as required so that a user can define write or read access groups. Users with write access can upload documents to a workspace and can edit and delete documents. Users with reading access can view documents but cannot update a workspace by editing, adding or deleting documents.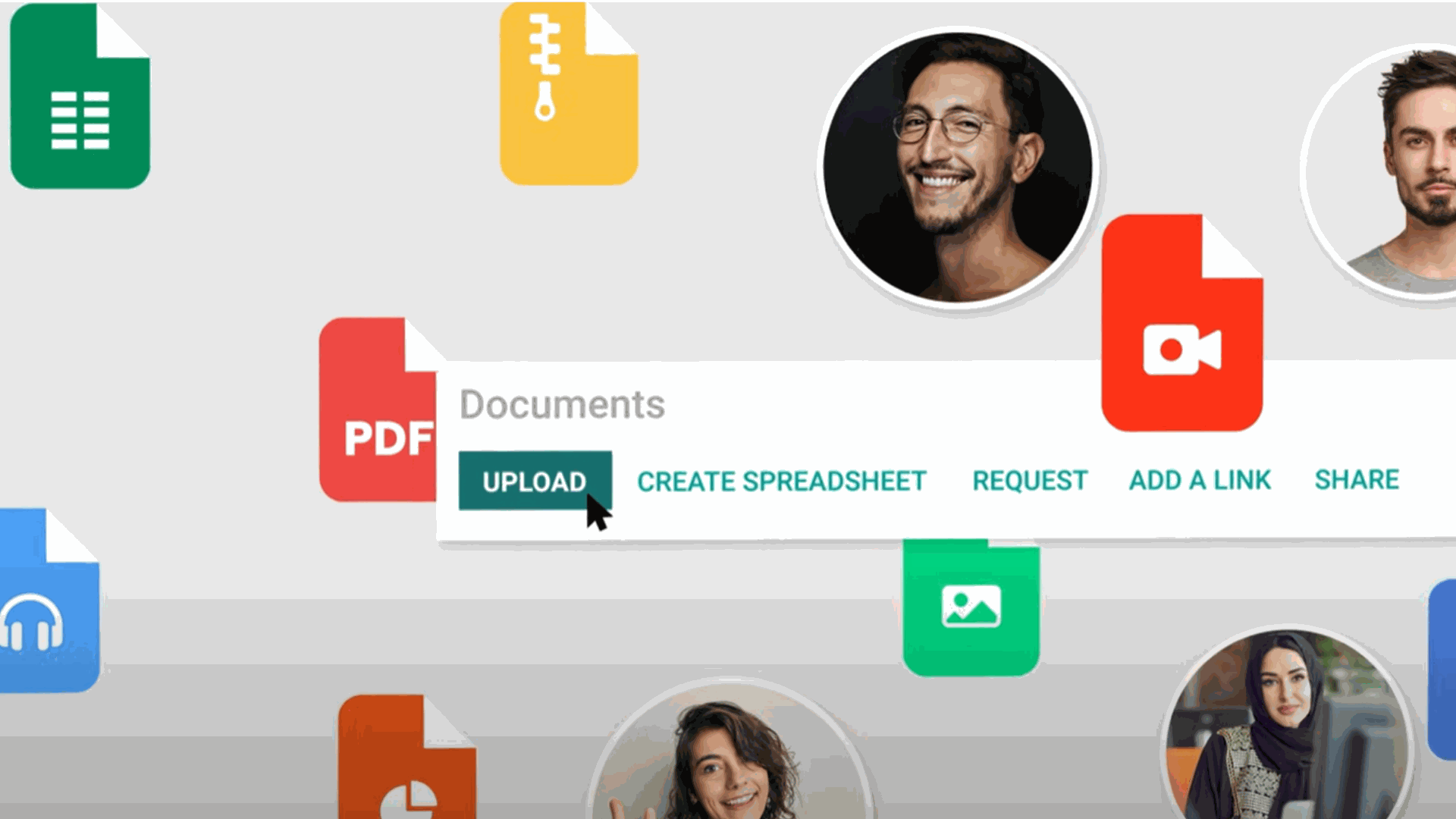 3 Big Ways An Integrated Document Management System Will Benefit Your Business
Decrease Costs: It is quite clear that inefficient business processes and lost productivity impact the bottom line in lost revenue. Companies spend time and money trying to find missing documents, printing and scanning and passing paper documents between personnel for signatures. With a centralised, secure solution that protects valuable information assets, all of those manual processes are eliminated. However, it is not just productivity that has a cost impact. Products like paper, ink, stationery and printers all attribute a significant cost year on year. Physical storage can take up valuable floor space that could be better utilised and finally, the cost on the environment is another significant factor when considering a holistic cost impact of paper-based processes and business functions. Calculate just how much time your business could save in manual, document related tasks you or your employees do each month via 

Odoo's online calculator

.
Reduced Risk: Odoo Documents has built in security measures that help protect your most sensitive information with encryption, two factor authentication, tracking and logging capabilities. Odoo makes it easier to ensure your data management is compliant with all applicable regulations within your industry. Even within your organisation access rights or permissions can be managed so that access is only granted to the correct personnel, reducing risk of a data breach. Documents can be formatted and watermarked with a signature to discourage unauthourised use and distribution. Even on a job or function level, specific permissions can be given to ensure users only have access to documents directly related to their work or job function.
Flexibility: Flexible working arrangements were already growing in popularity across the globe. Covid has certainly fast tracked the need for organisations to evolve and equip themselves with the infrastructure to support such work arrangements. Providing a centralised, online platform with guaranteed access at all times improves the ability of employees to work remotely from any location.  The flexibility to share online and sign documents electronically has become the norm within many industries. Such features are increasing the speed at which staff are able to work and producing efficient and flexible workspaces that are providing real and lasting alternatives to the traditional office workspace.