Manufacturers are forever facing regulatory and environmental changes as well as innovations in technology.  This continues to place pressure on all departments to work together and ensure visibility across the entire supply chain. 
Managing appropriate inventory levels to meet consumer demand can be challenging. Without sufficient quantities of materials, your company may not be able to keep up with demand. On the other hand, keeping an excess of materials on hand is costly and inefficient. 
So how can Material Requirements Planning (MRP) help address both of these problems? By organising inventory levels and planning your manufacturing activities to ensure that your company can deliver products on time without holding on to too much inventory.
Odoo MRP is a manufacturing resource planning software that G2.com awarded "Easiest Admin 2023", based on high levels of customer satisfaction and ratings from real users. 
What is MRP?
MRP is a system that manages inventory, plans production, and schedules deliveries to fulfil customer orders. Broadly put, MRP factors in both external demand and internal production capacity in order to keep operations running smoothly. Generally, the MRP process will follow three main steps:
Monitor current levels of components and raw materials on hand
 Identify when materials need to be replenished in  order to meet inventory requirements
Schedule material purchases and manufacturing activities
Modern MRP helps manufacturers run operations by ensuring issues around material availability, and machine servicing or malfunctions are managed efficiently. Ultimately, the lead time on manufacturing is protected and maintained by focusing on continuous output to, from, and inside the manufacturing process. An MRP is therefore a valuable tool, used to improve efficiency by cutting costs and delivering products on schedule.
ERP vs MRP. What Is The Difference?
Often MRP and ERP go hand in hand. However, they are not the same. MRP is a production planning, scheduling, and inventory control system used to help manufacturers order and plan for manufacturing materials. MRP is therefore a manufacturing specific tool, generally considered a subset of ERP.
ERP or Enterprise Resource Planning is a complete business management system that allocates resources and streamlines business processes. Modern ERP systems are fully integrated and made up of a suite of integrated business management tools that span the needs of the entire organisation. ERP therefore has a much wider scope and encompasses a range of core business functions such as Accounting, HR, CRM, eCommerce, etc.
Typically, most companies will start with an MRP as their core working model and then expand into a more holistic model as the business matures. In fact, Manufacturing companies are the No. 1 user of ERP software, making up the largest portion (47%) of companies looking to purchase ERP software.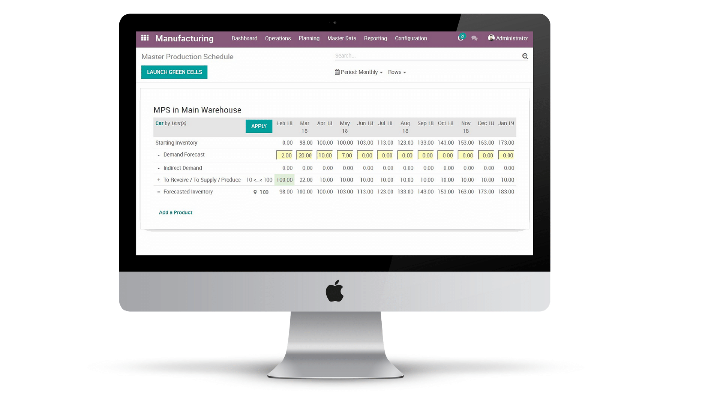 Which Software Is Best For Manufacturing Businesses?
When it comes to Manufacturing Management Software, Manufacturers are searching for solutions that are easy to use and most importantly, will not complicate their tech stack or burden them with unmanageable IT infrastructures. Wedoo recommends Odoo ERP for Manufacturing as we have seen how this software achieves greater operational efficiency and scalability whilst keeping a lean and affordable tech stack.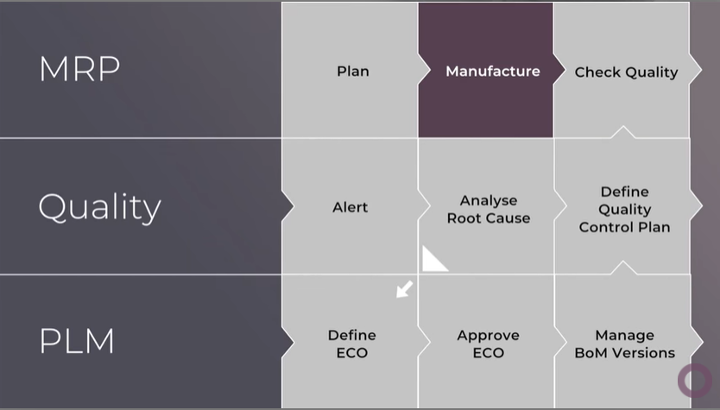 Why do Manufacturers need an ERP?
The average Manufacturer may use as many as 10 different applications to run their business, each using varying software solutions. Integrating each of these software applications so that they "talk" to each other can be expensive, time consuming and inefficient. 
An integrated solution (or ERP) will house all apps in one environment, enabling them to "talk" to each other so business tasks can run more efficiently. An ERP for manufacturers will increase efficiency in workflow, inventory, operations, maintenance, Product Lifecycle Management (PLM) and Manufacturing Execution Systems (MES) by integrating seamlessly and sharing information in real time to drive better business decisions and outcomes for customers.
Odoo ERP For Manufacturing: A True End-To-End Manufacturing Management Solution
Odoo is an open-source ERP suite capable of managing all aspects of a business. What makes Odoo stand out within the ERP market for Manufacturers is the affordability and breadth of functionality that can support all aspects of manufacturing from a single, easy to use platform. Handle the planning, scheduling, processing, procurement of materials, and bill of materials (BOM) with automated workflows, real time data and increased visibility across all departments.
You can control productivity with real time Overall Equipment Efficiency (OEE) reports and accurately manage the 6 major losses of TPM. Customised dashboards serve you time, data and full integration across all apps means your manufacturing processes and supply chain are monitored and managed for better efficiencies overall.
What Is Odoo's Manufacturing Module?
The Odoo Manufacturing module brings together MRP, PLM, maintenance and quality in a single app based solution. Importantly, the clean, intuitive user interface is easy to use and provides cross-device connection to barcode scanners, scales, cameras or other measurement tools. Easily manage all of your operations from the same screen or across multiple teams in real-time, in office or on the shop floor.
Odoo MRP
Odoo MRP is described as a modern solution to an old problem and it does not disappoint. You can plan manufacturing orders automatically using the master production schedule, where minimum stock or made to order rules can be set. The master production schedule automatically creates manufacturing orders based on demand forecasts, stock on hand and indirect demand. This allows the prioritization of manufacturing orders and the scheduling of future work where it can be reviewed and adjusted manually if needed, all on a dynamic Gantt chart.
During the manufacturing process, workers can use tablets on the shop floor to record production, check work sheets and track time. With all information at their fingertips, work sheet instructions are readily available and integrated with barcode scanners for recording lots, serial numbers and quality controls such as photos for pass and fail tests.
Odoo Manufacturing software includes the IoT box which allows the connection of tools and machines to work center control panels to automate measurements, machine set up or work instructions. By integrating barcode scanners and printers you can reduce errors and increase productivity, optimizing the work flow. All work is automatically timed by the Odoo system, allowing future orders to be scheduled accurately via the native integration that exists within Odoo and it's connected apps.
Watch the video below to see just how intuitive Odoo's manufacturing software is from the service field app, all the way through to creating manufacturing orders and aiding the entire manufacturing process including quality checks.
PLM Module
Odoo's Product Lifecycle Management (PLM) Module is designed for the engineering department. Specifically developed to manage engineering changes efficiently by empowering communication across multiple departments to allow for simple approvals and discussions on documents in real time.
Aligning every department on the same documents means you can track changes efficiently across multiple versions, no longer needing to sync EBoM and MBoM. The PLM module allows you to work on several versions of the same BoM in parallel and apply only the differences to manage multiple changes. Working smarter, not harder with smart versioning!
Why Odoo For Manufacturing Over Any Other Software?
1.
Cost 
Odoo comes at a fraction of the cost when compared to competitors. Licensing is charged annually and starts at around $25 USD per user per month for access to all Odoo applications.
How does that stack up?
Netsuite: Standard $99 p month (Odoo comes in nearly 75% cheaper!)

SAP: Professional $132 p month (Odoo is just over 80% cheaper!)

Acumatica: Small Business $1,000 p month (Odoo is 97% cheaper)

Epicor: ERP $175 p month (Odoo is still a whopping 85% cheaper)
2.
Breadth Of Implementations Worldwide
The breadth of Odoo MRP implementations span many industries across 75 countries worldwide. So the ability of the software has been tried and tested to meet the needs of many industries including:
Electronics
Furniture
Medical Device
Cannabis
Food and Supplements
Industrial Equipment
Appare
And so many more!
Countries with the most Odoo MRP users include:
USA
Mexico
Belgium
Germany
Egypt
Canada
2
. Fully Integrated Apps For Automated Workflows
For manufacturers, the native integration of Odoo's suite of apps means that if something goes wrong, like a machine malfunction or missing raw materials, this can be flagged on an order as 'blocked', triggering a quality alert, maintenance request or record scrap units as needed. Immediately the right team is notified. Errors are tracked and production is more efficient through better communication between all teams involved in the global manufacturing process.
Below is a simple example of an Odoo worrkflow management with automated sharing of information across seamlessly integrated business applications:
A manufacturer may sell a product (in the sales app), this creates a delivery (in the inventory app) so it is shipped out to the client. Simultaneously, a manufacturing order is created, and this happens automatically to lodge the ''make to order' product to begin manufacturing. Once the item is manufactured, it gets allocated to the inventory app for delivery.
A similar workflow could involve the same process where a sale is made (in the sales app), this triggers a delivery (in the inventory app), simultaneously triggering a manufacturing order automatically. However, this time, in order to manufacture a component needs to be purchased as it is not held in stock. The integrated system can be set up to automatically create a PO (in the purchase app). Once that component is sent out, a receipt can be created for receipting that component into stock (within the Inventory app). Once received into stock the component automatically gets handed over to the manufacturing team (in the MRP app), once the manufacturing order is complete, it gets allocated to the delivery (within the inventory app) so it can be shipped out. A more complicated process made just as simple, with automated workflows.
Odoo workflow management supports complex workflows across multiple departments and can be developed in order to meet unique requirements. Including component tracking, up and downstream reporting and automatic journal entries in stock valuation journals.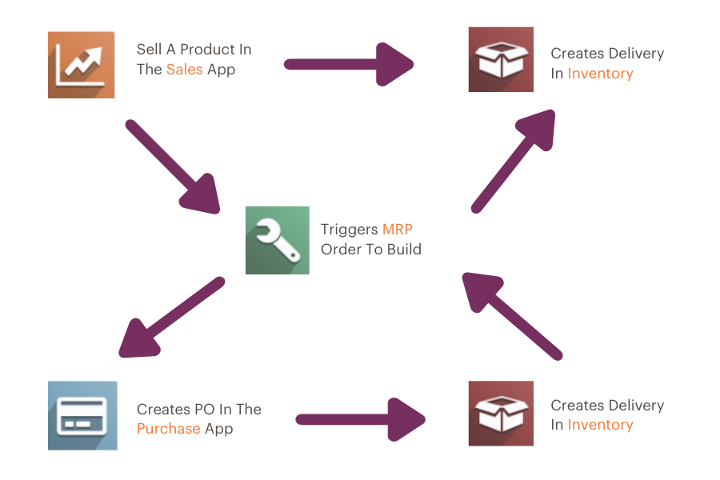 3.
Easily Maintain Overall Equipment Effectiveness (OEE)
Preventative maintenance software for manufacturing is crucial and OEE is considered the gold standard when it comes to measuring manufacturing productivity. A key performance indicator for identifying losses, benchmarking progress and improving the productivity of manufacturing equipment, people and processes. Odoo enables real time analytics to enhance the speed and cost efficiency of manufacturing processes.
For many Manufacturers it can be difficult to collect data across infrastructures and distill these for insights into accurate OEE estimation or maintenance actions. Odoo Maintenance is a maintenance software for manufacturing, a work order can be created, where Managers can set expected duration as a threshold value for what would be considered good equipment performance. The workers overseeing the completion of the work order can log the actual duration and any equipment issues that may have occurred. Based on this data, the system computes the OEE rate automatically for each process and displays this in a dashboard.
4.
Ensure Consistent Product Quality
Quality assurance is at the heart of manufacturers strategic and business objectives due to the many quality and safety standards that must be adhered, not to mention staying ahead of competitors and protecting brand value. The Odoo quality control process is fast and qualitative with easy internal communication within a single platform, eliminating spreadsheets, emails and documents that still make up much of the quality control process for some businesses!
Internal feedback is aided by the user-friendly interface for employees to create quality alerts which appear in the dashboard of the quality control team to investigate the root cause and correct or provide preventative actions. Proposed preventative actions can be shared and agreed all within the Odoo platform which speeds up the process of confirming and actioning specific control points.
Workers on the shop floor will see any quality control points on a tablet and can confirm whether the control point has failed by recording the details, immediately communicating this back to the quality control team.
5.
Efficient Product Change Management
Many manufacturers face huge delays in communicating and approving engineering change orders due to the number of stakeholders involved in the decision making and approval process. Odoo's PLM uses collaboration tools that operate in a similar way to social network messaging and video calling to aid communication across multiple departments. Engineering changes can be created and managed efficiently, with all discussions and documents centralized, in real time and available only to those that need it.
There is no need to sync EBoM and MBoM as every department has access to the same documents, with tracked changes across multiple versions. Working on several versions of the same BoM in parallel is not an issue as Odoo PLM allows for the differences between documents to be applied, making the management of multiple changes super-efficient.
6.
Ease Of Use
A key highlight and value proposition of Odoo is ease of use and it is crucial of a good manufacturing system. Implementing new software is a learning curve for all involved and usage will span across many skill levels and occupations throughout an organization. It is important for all employees to feel empowered by technology and this is a key value of Odoo. Dynamic reporting, dashboards, drag and drop Kanban displays as well as the intuitive interface design are all the result of continual improvements made to Odoo's usability annually, informed directly by its 7 million + users!
Conclusion
In conclusion, Odoo is an open-source ERP software that is highly customisable and suitable for manufacturers of all types and sizes.  A complete MRP and ERP system formed by a suite of business apps that include all types of manufacturing software that modern producers need, including:
Manufacturing cost estimating software
Preventative maintenance software for manufacturing
Product costing software for manufacturing
Manufacturing inspection software
Open source scheduling software
Manufacturing accounting software
Manufacturing analytics software
Manufacturing forecasting software
If you're looking for any one or more of these business tools, reach out to one of our MRP and ERP consultants today. We look forward to hearing from you.