In the fast-paced landscape of the small to mid-sized business sector, selecting the right enterprise resource planning (ERP) solution is pivotal to achieving sustainable growth and operational efficiency. 
As businesses seek to streamline their processes, manage resources effectively, and respond adeptly to market demands, the choice between Odoo and NetSuite becomes all the more critical. 
In this comprehensive comparison, we consider the strengths and of these two prominent ERP systems which are commonly present on the ERP consideration list of small to mid-sized companies.

Happy staff = Happy customers
Compare Odoo and Netsuite user satisfaction ratings. Download the 2023 G2 user satisfaction ratings.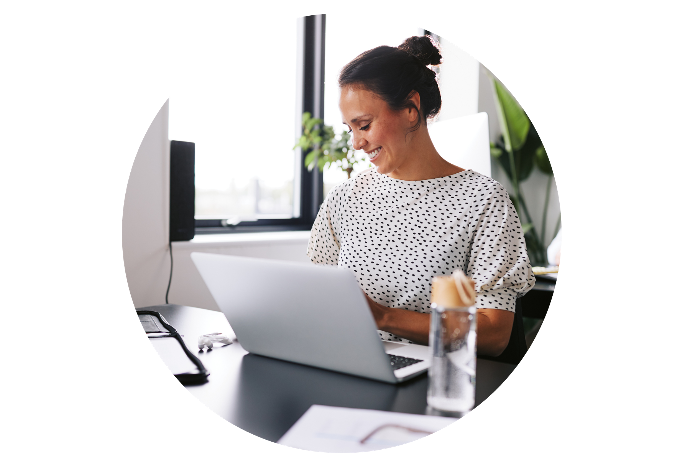 Odoo Strengths: 
Leading open-source ERP: 

Odoo is a widely recognised and highly adopted open-source ERP software. Its open-source nature allows for customisation and flexibility to meet specific business needs.

Highly adopted globally by SMEs:

Many small to medium-sized enterprises (SMEs) have embraced Odoo due to its user-friendly interface, cost-effectiveness, and scalability.
Proven scalibility for larger, more complex organisations:

As Odoo matures and growth steadily increases globally, the ERP software is proving to be viable for larger enterprises across a wide range of industries. This proves Odoo's scalability and suitability for business of all sizes.

Affordability & Straightforward pricing:

 Odoo is the most affordable when compared to NetSuite and offers transparent pricing (one per user fee from $28.30 USD for access to all apps), making it easier for businesses to budget total cost of ownership and ROI.

Flexibility:

 Odoo provides extensive flexibility in terms of integration with other systems, allowing businesses to seamlessly connect their ERP with external tools and applications. It also offers the flexibility to implement the software module by module, enabling businesses to grow into the software gradually.

Easy to Use:

 Odoo's intuitive interface and user-friendly design make it easy for employees to navigate and use the software efficiently.

Continued Growth

: In 2023, Odoo raised over $160 million in capital to maintain a steady growth trajectory globally. Bucking global tech giant trends of retrenching this can be considered a strength for investors and users alike.

User Satisfaction:

When it comes to user satisfaction, Odoo had taken the lead. According to G2's user satisfaction reviews in 2022 and 2023, Odoo users rate the functionality of the system higher than NetSuite users:
When assessing the two solutions, G2 reviewers found  Odoo ERP easier to use, set up, and administer than NetSuite.
Reviewers felt that Odoo ERP meets the needs of their business better than NetSuite.
When comparing quality of ongoing support, reiewers felt that Odoo ERP is the preferred option
For feature updates and roadmaps, our reviewers preferred the direction of Odoo ERP over NetSuite.
Check our 2023 user satisfaction ratings for Odoo vs NetSuite.
NetSuite Strengths: 
Popularity in the small and mid-sized market:

Netsuite established itself as a go-to cloud ERP solution for companies in the small to mid-sized market by offering a relatively more affordable solution to replace legacy systems.

High adoption rate:

Netsuite's maturity as a cloud ERP solution has gained significant traction in the market, not only among SMEs but also in larger enterprise organisations. Its successful implementations in larger companies demonstrate its scalability and suitability for varying business sizes.

Backed by Oracle:

NetSuite's acquisition by Oracle brings the financial resources and expertise of a well-established tech giant. This backing strengthens the company's ability to invest in research and development, ensuring ongoing enhancements and improvements to the software.

Standardisation

:  NetSuite is a 'Software as a Service' (SaaS) platform. Meaning that the software is built specifically to be used as an off-the-shelf solution whereby organisations all over the world use the same instance of that software. While customisations can be made, NetSuite remains in control of what programmers are allowed to customise. Any customisations are treated as second tier code and must be built using NetSuite's proprietary language 'Suite Script'. This higher level of standardisation will work well for businesses that have fairly standard back-office needs. If your business can adapt to off-the-shelf software, this would be of benefit. 
Odoo Weaknesses
Hands-on implementation approach:

Odoo may require a hands-on implementation approach to tailor the software to meet the specific needs of your organisation. Working with a partner or consultant is crucial to ensuring a successful implementation.

Limited predefined work processes:

Compared to larger players in the market, Odoo may not have as many predefined work processes readily available. This could require additional customization and configuration to meet specific industry requirements.

Maintenance:

Odoo's subscription and licensing costs are much lower in comparison, but additional costs may arise with the implementation and maintenance of the software. It is important to work with an experienced Odoo partner to ensure that a support package is available to handle upgrades and technical maintenance.

NetSuite Weaknesses:
Higher Total Cost of Ownership (TCO): 

NetSuite's pricing is not available on their website, but third-party websites suggest that you will be charged for the core NetSuite platform and preferred modules (which can range from $199 to $99), plus a fee for each additional user ($99 per month). NetSuite also charges a one-time setup fee. The advantage of NetSuite being a SaaS platform is that the cost of system maintenance and updates remain with NetSuite.

Less Flexibility:

 While customisations can be made, NetSuite remains in control of what programmers are allowed to customise. Any customisations are treated as second tier code and must be built using NetSuite's proprietary language 'Suite Script'. Customisations therefore tend to take longer and attribute more costs than open source software.

Modularity: 

NetSuite is a complete set of modules that are tightly integrated and designed to be deployed as a complete ERP system. This may result in paying for functionality that your business does not require because the system as a whole cannot operate as separate modules.

Limited Functionality for Complex Manufacturing Processes:

Manufacturers with complex engineering-to-order and heavy product management requirements may find that NetSuite's functionality does not fully meet their needs. Thorough evaluation of the system's capabilities is essential for manufacturing businesses.


NetSuite vs Odoo: Feature Comparison*
These are the features that Odoo does offer, which NetSuite does not:
Sales:
B2B Sales:
Electronic Signature
Quotation Templates
In-Store Sales:
Point of Sale (Restaurants)
Online Sales:
Communication Tools:
Accounting & Finance:
Internal Process:
Daily Operations:
Bank Interface / Automatic Sync
Quick Reconciliation
Invoice Management:
Batch Send (email, standard mail)
Third Party Follow-Up
International:
More than 10 countries supported (chart of accounts, taxes, reports etc)
Marketing:
Events
Drag & Drop Page Editor
Follow-Up:
Survey 
Social Media Management
Warehouse Management:
Routing For Multi Warehouse (one company)
Logistic Rules (advanced routings & push/pull rules)
Manufacturing:
Work Sheets
Maintenance
Tablets on Work Centre
Feedback Loop
Overal Equipment Effectiveness (OEE)
IOT Out-Of-The-Box
Purchase:
Services & Projects:
Lean Approach / Kanban View
Planning (including capacity managment, multiple costs and budgets)
Human Resources:
Fleet Management
Salary Configurator
Usability & Productivity:
Theme Store
Fully Responsive
Customised Fields Out-Of-The-Box
Real Time Chat & Emails
Dynamic Reporting / Pivot Table
Full Keyboard Support
Kanban
 *Feature comparison sourced from Odoo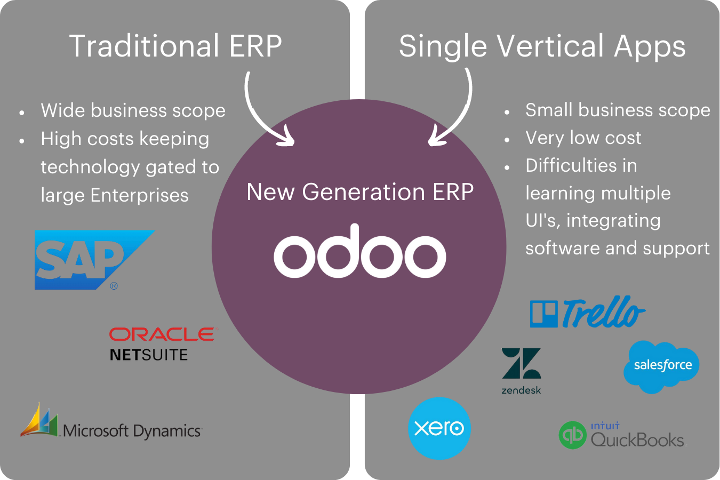 So which ERP will provide the most business value?
Ultimately, your decision should be based on the specific needs of your business. Factors such as user satisfaction, total cost of ownership, flexibility, and scalability should be carefully evaluated. It is recommended to work with experienced consultants who can provide guidance and help determine how well the ERP solutions align with your organization's goals.
Whether you choose Odoo or Netsuite, selecting the right ERP software can have a significant impact on your business operations, efficiency, and growth. Take the time to evaluate your options, involve key stakeholders, and make an informed decision that sets your business up for success.