Xero is a very successful accounting software in New Zealand. However, as businesses mature, and as needs change, a standalone accounting software is not capable of scaling with the growing complexities of your business.
Xero vs Odoo: Accounting Software Comparison Report 2023
Download the side-by-side comparison today.
So, how do you know your business has outgrown Xero and what makes Odoo the logical next step?
6 signs your business has outgrown Xero:
You've outgrown accounting – As businesses grow, so too do their product lines, employee count, sales channels, customer base, customer types and the intricacies of their supply chains. At some point, a stand-alone accounting software is not going to be able to handle the growing complexity of the business.
Too many software applications – businesses start off running their numbers in xero, then bring in additional software for their POS. CRM, inventory, HR, customer support, ecommerce, marketing and the list goes on. This results in costly, manual tasks of exporting data into excel and manipulating that data to generate reports. This is a clunky process that results in errors, hours lost in manually generating reports. If you're still managing multiple applications, or worse, managing multiple spreadsheets then this is a clear sign that your business has matured and outgrown Xero.
You need to split duty and freight to individual items to create a landed cost - Xero Inventory does not have the ability to do this
Expanding into new markets – whether selling through new sales channels, new subsidiaries or new countries, expanding into new countries comes with its own set of operational challenges. Handling multiple currencies, entities, languages and foreign tax regulations can push xero far beyond its limits. Multi-currency functionality is limited, and it will come at an additional cost
Inventory levels are mismatched, hard to track and forcing you to use work arounds. 
You have more than 2 users entering invoices simultaneously - testing has shown that simultaneous entry of invoices causes problems in Xero. Xero assigns a next invoice number when a user starts entering an invoice. This number is not reserved, so if another user starts a new invoice, it will get the same number. Testing shows that with more than two users entering invoices at the same time, invoices are overwritten. 
As frustrating as it is to have outgrown Xero, this is great news for your business. It means that the workload of a small-business accounting platform has grown too big and it's time to upgrade to an Enterprise Resource Planning system (ERP).
An ERP provides a single source of data, pulling all the information from every business operation into one system where your staff can access it on any device. This unified view provides leaders with an opportunity for empowered decision making that increases their productivity and profitability in today's competitive environment.
Is Xero an ERP system?
No. Xero is not an ERP system. Xero is a cloud based accounting application that can have functionality extended to some extent through a project management software called Workflow Max or third party app integration. However, extending Xero's functionality to perform as a complete Enterprise ERP with a mix of third party app integrations is not a good long-term approach for growing businesses. From our experience and in dealing with customers who have outgrown Xero, Workflow Max doesn't meet project management requirements for growing businesses, with the top complaints being that the user interface and scheduling tool is clunky, doesn't handle multi-currency and it is difficult to determine the value of work in progress. Perhaps the most surprising too has been the reported inability to access in person support within NZ.
Odoo
Odoo on the other hand, is purpose-built as an integrated Enterprise Resource Planning software, with a suite of out-of-the-box features including project management, manufacturing, accounting, CRM, eCommerce and more.
The user interface is sleek and easy to use, which speeds up the learning process and makes it simpler for employees to get stuck in from day one. The software can also be accessed from anywhere at any time, meaning businesses can manage their operations from a single platform regardless of location.
Odoo... Like Xero but for grown ups.
If you're used to the beautiful software that Xero offers, you'll find familiarity in Odoo.
With an app for every business need, Odoo is the logical next step for growing businesses. Flexibility and affordability ensure it is a software solution that will not be outgrown.
Xero Odoo integration
When your business outgrows Xero, the Wedoo Xero Odoo integration ensures a smooth migration to Odoo Enterprise with all data being transferred including; Customers, Suppliers, Products, Contacts, Addresses, Sales Orders, Purchase Orders and Invoices. Odoo is powerful and full featured out-of-the box but also has an amazing app store with over 16,000+ apps available many of which are free.
The Xero to Odoo integration also allows for a phased approach to ERP implementation. If your finance team loves using Xero, tackle that last. Rather than attempting to implement ERP all at once, you may segment the process and implement it incrementally. The modularity of Odoo allows for phased ERP implementation, which literally builds a better business one app at a time. Meet immediate commercial needs first, such as customer relationship management (CRM), point-of-sale (POS), manufacturing, and/or inventory.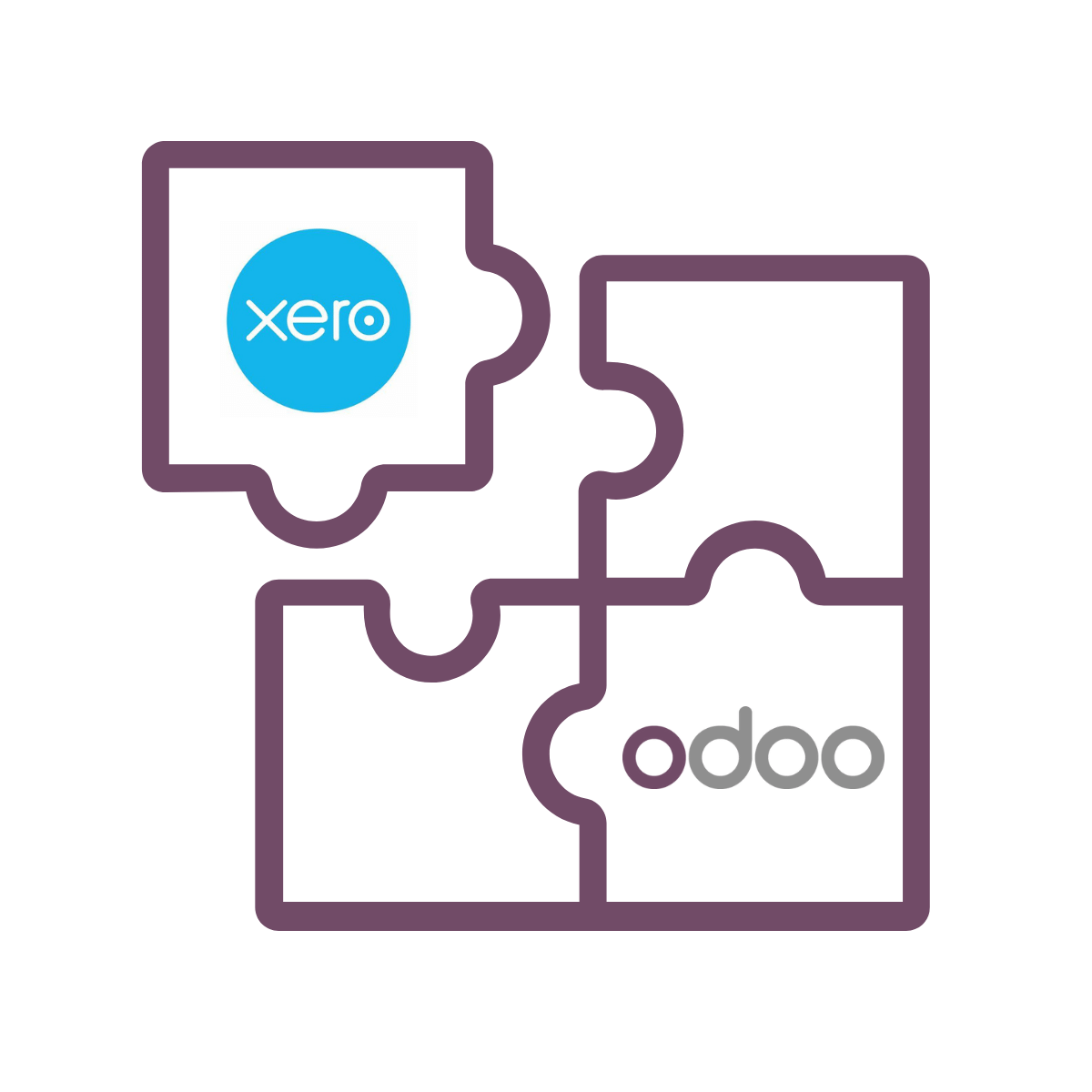 Is Odoo Accounting good?
The Odoo Accounting Module is a core Odoo module.  A powerful Accounting software straight out-of-the-box and is constantly being developed and improved. Here are some of the highlights:
 Double-entry bookkeeping
 Automatic bank feeds
Reconciliation tool
Financial reports
Budgeting
Expense management
These features are important because they provide businesses with a clear financial overview, allow for easy expense tracking, and give managers the ability to make informed decisions about budgeting and spending.
Odoo vs Xero
Odoo offers a number of advantages over Xero, let's consider them:
 Odoo is has more comprehensive suite of business app.
Odoo is an open source platform which allows for customisations to be made to the software for you exact needs if they can't be met out-of-the-box.
Xero isn't suited to high-volume transactions. Running reports on a large number of transactions might put strain on the software and cause delays or cause the system to time out.
Stand-alone accounting software will struggle to handle the growing complexities of a growing business: growing product lines, employee count, sales channels, customer base, customer types and intricate supply chains
Xero is popular among small- and medium-sized enterprises, but some of them then acquire other software programs that don't connect. As a result, there are inefficient processes, clunky procedures, multiple spreadsheets, and manually producing reports.
Unlike Odoo, Xero has a limit of 4000 SKUs, and you can't sort your products by variants. With Odoo, workflows can be configured to match your inventory and billing needs. Whereas Xero considers inventory to have been moved when the bill or invoice was issued. In reality, things move at a different moment from the time the invoice is produced. As a result, Xero's inventory monitoring makes locating how many items are on hand at any one moment very difficult.
When you sell products using Xero, you can't pre-sell anything if the Quantity on Hand is 0. However, there may be times when a certain product is only in production, but some consumers already want to buy it. Odoo on the other hand, allows for the presale of goods.
Because Xero is a standalone accounting software, it does not have built-in functionality to track inventory by lots or serial number like Odoo does.
Handling multiple currencies, entities and languages and foreign tax regulations can push xero far beyond its limits. Such limits do not exist with Odoo.
Xero does not handle simultaneous entries of invoices according to a 2018 stress test. Xero assigns a next invoice number when a user starts entering an invoice. This number is not reserved, so if another user starts a new invoice, it will get the same number. Testing shows that with more than two users entering invoices at the same time, invoices are overwritten. 
Odoo Xero Feature Comparison
Looking for a side-by-side comparison of Odoo vs Xero features? Download our 2023 Odoo Xero Comparison Report.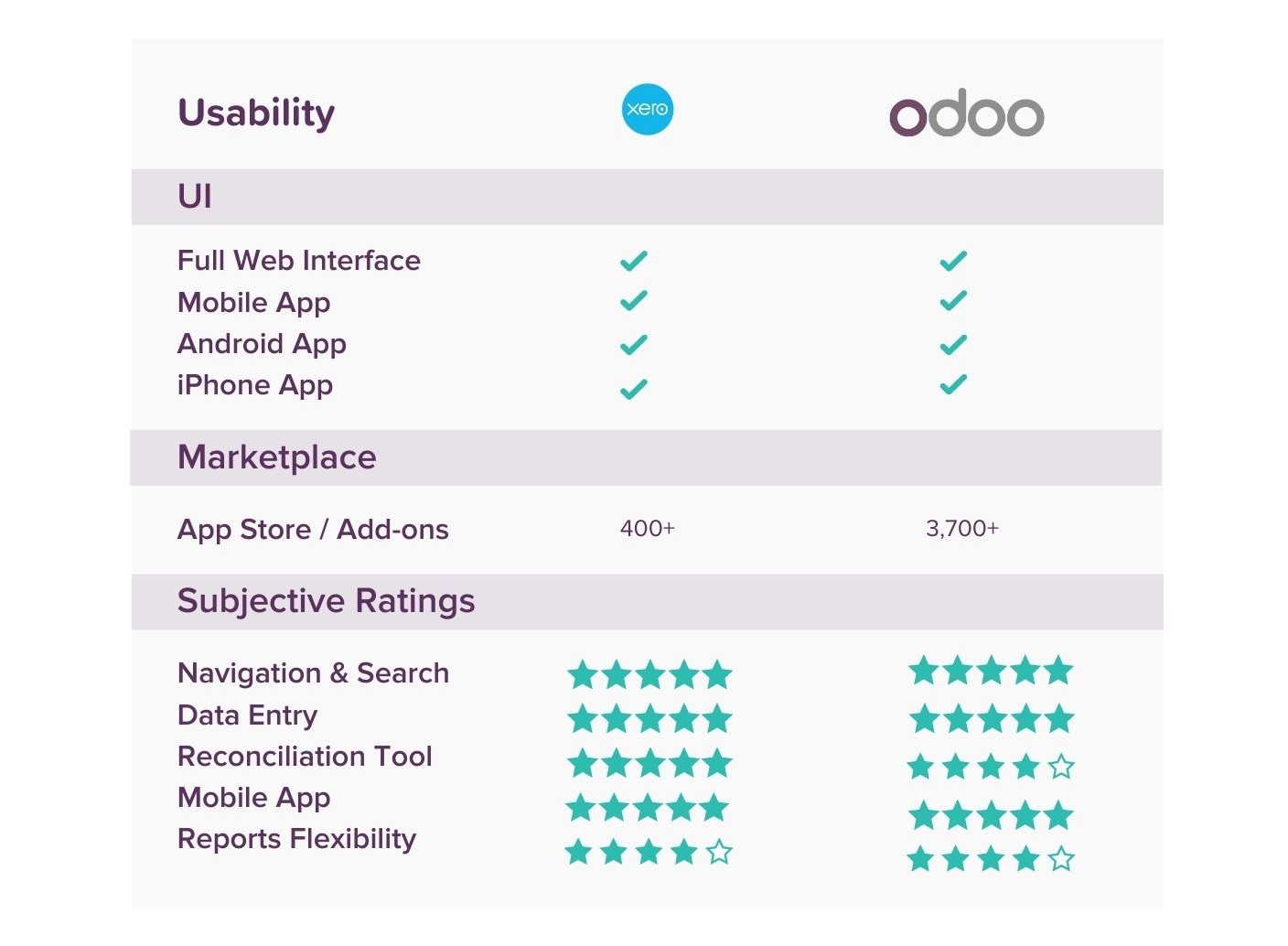 Has your business outgrown Xero? If you're finding that you need more features and functionality, it might be time to make the switch to Odoo ERP. The best choice in ERP software for NZ SME's due to it's modular design which enables a phased approach to ERP implementation that is tailored to the exact needs of your business. We have the largest team of dedicated Odoo experts in NZ. Talk to one of our Odoo experts today.