If you're running a growing ecommerce business, it is likely that you are becoming very familiar with enterprise resource planning (ERP) software. That's because when your online business grows, so too do the complexities of inventory, supply chain, and customer relationship management (CRM). A good ERP platform will optimise an ecommerce operation from front to back and is often the secret to the most successful ecommerce brands!
Ecommerce has become a significant part of retail across the globe and online retailers can set their business up for growth by choosing the right ecommerce ERP software from the outset.
In this blog post, we will delve into ERP systems specifically tailored for ecommerce businesses. We will explore the key features, benefits, and comparisons of the top ERP ecommerce solutions available in the market.
Whether you're seeking to streamline your supply chain, optimise processes, or enhance customer experience, understanding the best ERP options for ecommerce is the first step in getting there.
What is ERP in Ecommerce?
ERP is the software and systems that connect and help manage your daily business activities across finance, CRM, marketing, manufacturing, inventory, shipping, and more. Within eCommerce, an ERP system can either integrate with your chosen eCommerce platform or completely replace it, depending on your needs and the capability of the eCommerce site functionality on offer. At Wedoo for example, we worked with an eCommerce brand who had already invested significantly in their eCommerce platform. In this scenario, Shopify Plus was delivering all the online store capability necessary and so we were able to implement a powerful and full functioning ERP system that integrated with Shopify. Because when it comes to ERP, there is no one-size-fits-all solution.
On the other hand, Odoo ERP for example, offers an eCommerce platform and CMS that is built to rival popular drag and drop web builders like Wix and Shopify. You can download the full comparison report between these eCommerce platforms for free below, no email required.
Ecommerce Platform Comparison Report 2023
Download the side-by-side Odoo vs Wix vs Shopify comparison report. 
Why is ERP important for eCommerce?
ERP is important for ecommerce brands because, for online retailers, the competition is global. Small businesses and SME's are competing with large, global retailers. What sets the best eCommerce stores out from the rest is not their size, but their ability to meet and exceed customer expectations. A modern ERP is the secret to achieving just that!
An ERP system helps ecommerce businesses manage their operations, inventory, accounting, and customer relations with a suite of applications and tools designed to boost productivity in the day-to-day operations of each and deliver world leading customer experiences. 
Integral ERP apps for eCommerce success include:
Customer Relationship Management:

With its integrated CRM functionality, an ERP solution enables ecommerce businesses to efficiently manage customer relations throughout the entire customer lifecycle. The centralised database means businesses can store and access comprehensive customer information, including contact details, purchase history, preferences, and interactions. This holistic view of customers allows ecommerce businesses to gain valuable insights and deliver personalised experiences. The system automates various CRM activities, such as lead management, customer segmentation, and marketing campaigns, enabling businesses to engage with customers effectively. It facilitates the tracking and analysis of customer interactions across multiple touchpoints, including website visits, social media engagement, and support inquiries, providing a 360-degree view of customer engagement. Furthermore, the software integrates with communication channels, enabling businesses to respond promptly to customer inquiries, resolve issues efficiently, and provide exceptional customer service. By leveraging the CRM capabilities, ecommerce businesses can build strong customer relationships, improve customer satisfaction and loyalty, and drive long-term business growth.
Inventory:

Inventory management is a critical aspect of running a successful ecommerce business, and an enterprise system plays a pivotal role in streamlining and optimising this process. With an ERP solution in place, ecommerce businesses can effectively manage their inventory throughout the entire supply chain, from procurement to fulfilment. The system provides real-time visibility into inventory levels, allowing businesses to track stock accurately and avoid stockouts or overstocking. Automated inventory control features help optimize order fulfilment by ensuring the right products are available at the right time. Additionally, ERP can integrate with various channels, such as online marketplaces and storefronts, enabling seamless inventory synchronisation and preventing overselling. Ecommerce businesses can maintain optimal stock levels, reduce carrying costs, minimise fulfilment errors, and ultimately deliver a superior customer experience.

Accounting:

Knowing your costs, how to reduce them and how to improve your margin at each stage of growth is the key for successful ecommerce brands. From tracking revenue and expenses to managing accounts payable and receivable, an ERP system provides a comprehensive suite of tools for accurate financial management. It automates financial processes, such as invoicing, billing, and payment reconciliation, reducing manual errors and saving valuable time. The integration of sales data, inventory information, and financial transactions within the system ensures accurate and up-to-date financial reporting and analysis. Ecommerce businesses can generate detailed financial reports, monitor cash flow, and gain insights into profitability. By leveraging the financial management capabilities of an ERP system, ecommerce businesses can improve financial transparency, enhance decision-making, and ensure compliance with financial regulations.
As a percentage of total retail sales, eCommerce sales continue to rise and form a significant opportunity for those who have not entered the space yet, or for those looking to improve in it.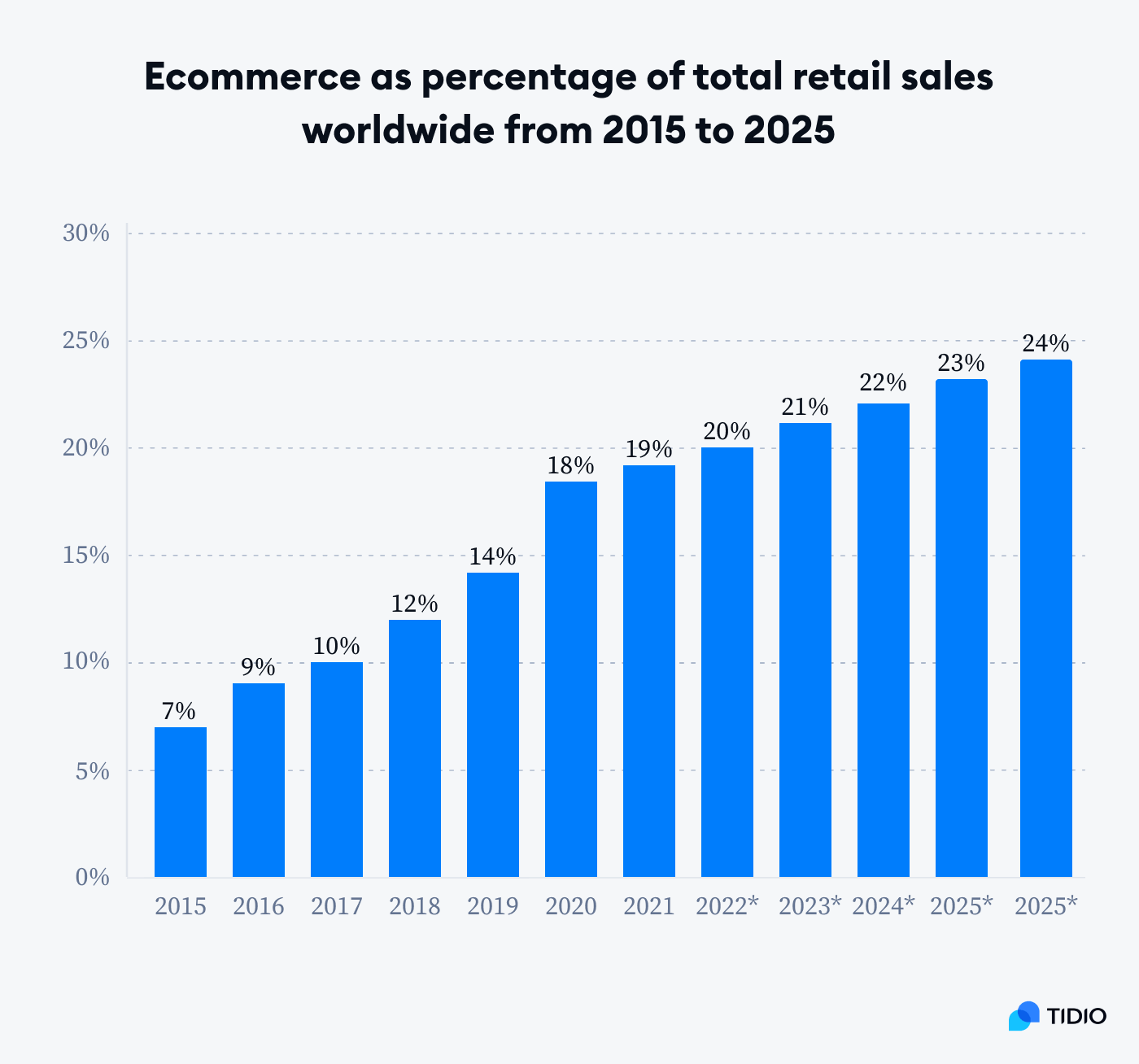 Key Benefits of ERP in eCommerce:
Real Data Insights:

For a business to gain a competitive edge and exceed expectations, access to real data insights is imperative. That's the beauty of ERP for ecommerce. Delivering accurate data from across the business to drive an improvement in customer experience, optimisation of the supply chain, and better inventory management with full visibility and accuracy.

Keeping Up With Technology:

Legacy systems and outdated technology are becoming increasingly burdensome (Panorama-Consulting-Group-2020-ERP-Report.pdf (hubspot.net) )as we move into a post-digital, more nimble era. Modern ERP comes with regular updates that keep your business at the forefront of technology advances, including the integration of AI into day-to-day business activities. 

Automated Processes:

Seamless integration across every business function facilitates automated, bi-directional data exchange between your apps. This eliminates costly human errors and results in far more efficient business processes.

Great Customer Experiences:

The importance of omnichannel customer experiences has been front and centre for eCommerce businesses for a long time. That's because serving the unique needs of a customer on one channel is not enough to gain a competitive advantage. Instead, understanding and creating effective, true omnichannel customer experiences is necessary to succeed. Interestingly, just 25% of UK CIOs agreed that ERP enhanced their omnichannel potential. Hence at Wedoo, we recommend ensuring your chosen ecommerce ERP delivers on this crucial aspect of great customer experience.
Factors to Consider When Choosing the Right ERP System for Ecommerce
When it comes to choosing the right ERP for eCommerce, there are several key factors that ecommerce businesses should carefully consider when evaluating options:
Scalability:

Ecommerce businesses often experience rapid growth and expansion. Therefore, it is crucial to choose an ERP system that can scale alongside the business. The system should have the capacity to handle increasing transaction volumes, inventory management needs, and customer data without compromising performance.

Integration Capabilities:

Seamless integration between the ERP system and other essential ecommerce tools is essential. The ERP system should be able to integrate with popular ecommerce platforms, payment gateways, shipping providers, and third-party applications. This integration streamlines processes, eliminates data silos, and provides a unified view of the business, enhancing efficiency and accuracy.

Customisation Options:

Every ecommerce business has unique requirements and processes. An ideal ERP should offer customisation options to tailor the software to specific business needs. This flexibility allows for the incorporation of industry-specific functionalities, workflows, and reporting capabilities, ensuring that the system aligns perfectly with the business's operations.

Cost:

Cost is a significant consideration for any business, and ecommerce businesses are no exception. It's important to evaluate the total cost of ownership, including licensing fees, implementation costs, maintenance fees, and ongoing support. It's also crucial to consider the potential return on investment (ROI) and the long-term value the ERP system can provide to the business.

User-Friendly Interface:

An intuitive and user-friendly interface is vital for user adoption and productivity. Ecommerce businesses should look for an ERP system that offers a modern and easy-to-navigate interface, allowing employees to quickly learn and utilize the system effectively.

Reporting and Analytics:

Data-driven decision-making is crucial for ecommerce success. The system should offer robust reporting and analytics capabilities, providing real-time insights into key metrics such as sales performance, inventory levels, customer behaviour, and financial data. This empowers ecommerce businesses to make informed decisions and identify areas for optimisation and growth.

Support and Training:

Adequate support and training are essential for a smooth ERP implementation and ongoing usage. Consider the level of support provided by the ERP vendor, including implementation assistance, training resources, and customer support channels. A responsive support system ensures that any issues or challenges can be addressed promptly, minimising disruptions to business operations.
 By carefully evaluating these key factors, ecommerce businesses can make an informed decision when choosing the best ERP system that aligns with their unique requirements and positions them for success in the competitive ecommerce landscape.
3 of The Best ERP For Ecommerce:
There are a number of 'best ERP' lists available on the web. We have compiled a list of the best ERP for eCommerce with the NZ market in mind:
Odoo: 

Odoo is an open-source ERP system that provides pre-built connectors for popular eCommerce platforms like Magento and Shopify which allows easy integration between the front and back office. Additionally Odoo eCommerce provides a full eCommerce platform and CMS for thos looking to build new or replace existing websites. Odoo ERP also offers modules for inventory management, sales, purchasing, CRM, and more. Odoo's modular structure allows business to customise and add functionalities as needed.
Odoo: (odoo.com) Odoo is an open-source ERP system that provides pre-built connectors for popular eCommerce platforms like Magento, Shopify and more, which allows easy integration between the front and back office. Additionally, Odoo eCommerce provides a full eCommerce platform for those looking to build new or replace existing sites. Odoo ERP also offers modules for inventory management, sales, purchasing, CRM, and more. Odoo's modular structure allows businesses to customise and add functionalities as needed. Odoo's 'one app at a time' modular architecture makes it a highly flexible and scalable solution for businesses looking at a phased approach to ERP implementation. Along with ease of use and comparatively faster implementation timeframes, Odoo is also the most cost-effective ERP on the market for eCommerce businesses in NZ. 

Pricing indication: From $36.34 USD per user, per month, all apps included.

NetSuite: NetSuite is a widely recognised ERP system that provides comprehensive solutions for ecommerce businesses. It offers robust inventory management, order fulfilment, and customer relationship management (CRM) capabilities. NetSuite's integrated platform allows for seamless data flow and real-time visibility across various business functions. Pricing indication: Pricing depends on the number of users, modules, and functionality of the software package. Base Netsuite license costs $999 per month, plus $99 per user.
Microsoft Dynamics: Microsoft Dynamics 365 is another widely recognised ERP for ecommerce due to its wide usage, flexibility and customisation. It is comprised of two different ERPs (Dynamics 365 for Finance and Operations and Dynamics 365 Business Central) designed for two entirely different types of business. However, the underlying architecture and functionality of Dynamics 365 (both versions) make it well-suited for online businesses. 

Pricing indication: With the Commerce app, from $272.10 p user p month. Plus an additional $45.40 p user p month with every subsequent app.

Pricing | Microsoft Dynamics 365
There are many more eCommerce Systems Software to discover and ERP systems on the market that can integrate with your eCommerce store. These 3 are our top picks for NZ based eCommerce stores due to their flexibility, lower end pricing and ability to scale.
Worldwide search interest in Odoo has overtaken both NetSuite and Microsoft Dynamics since 2021.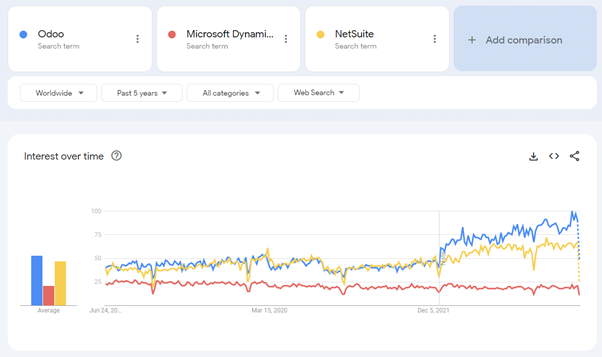 In New Zealand however, Odoo is still relatively new to the market. NetSuite has the been the dominant solution in terms of brand awareness. However, as the more NZ businesses explore Odoo's suitability and ground breaking affordability, we would expect brand awareness to follow the direction of global trends.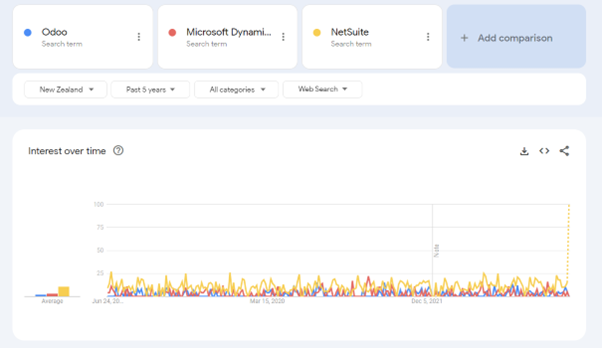 Thank you for reading our blog post on ERP systems specifically tailored for ecommerce businesses. We hope that you found the information useful and informative. If you are interested in learning more about how Odoo can work for your business, please don't hesitate to contact Wedoo, NZ's leading Odoo implementation partner. Our team of experts can help you determine the best ERP solution for your unique business needs and provide ongoing support to ensure a smooth implementation process. 
Don't wait, contact us today to take your ecommerce business to the next level with Odoo!
ERP for Ecommerce: FAQ
Is it best to integrate an ERP system with an eCommerce platform like Shopify or choose an ERP that provides a fully functional eCommerce software solution?
The decision to implement an ERP system with its own ecommerce platform or integrate a full ERP with a separate ecommerce platform depends on various factors, including your business requirements, scalability needs, and budget constraints. Let's explore both options:
ERP system with its own ecommerce platform: This approach offers the advantage of a unified system, where your ERP and ecommerce functionalities are tightly integrated. It can provide seamless data synchronization, real-time inventory management, and streamlined order processing. Implementing an ERP system with its own ecommerce platform can be beneficial if:

You value simplicity and prefer a single vendor solution.
You have complex inventory management needs, and it is critical to have real-time inventory updates across all channels.
You want to reduce the complexity of managing multiple systems and integrations.
You require deep integration between your ecommerce operations and other ERP modules like accounting, CRM, and supply chain management.

Integrating a full ERP with a separate ecommerce platform: In this approach, you select an ERP system that can integrate seamlessly with a standalone ecommerce platform of your choice. This option provides greater flexibility and allows you to choose the best-of-breed solutions for your specific business needs. Consider integrating a full ERP with a separate ecommerce platform if:

You have already invested in an ecommerce platform and wish to retain its specific features and functionality.
You require advanced ecommerce capabilities that may not be available in the ERP's built-in ecommerce module.
You want the freedom to select and customize different components of your ecommerce and ERP systems independently.
Your business has unique requirements that necessitate the flexibility and extensibility offered by separate systems.
Ultimately, the best approach depends on your business's specific needs, long-term growth strategy, and the level of integration and functionality required. It is essential to evaluate and compare the features, scalability, integration capabilities, and costs of different ERP and ecommerce platforms to make an informed decision.
At Wedoo, our knowledgeable ERP consultants help guide you through the decision-making process and ensure a successful implementation, regardless of the chosen approach. That's because we know there is no 'one size its all' approach to building better business.
Is Shopify an ERP system?
No, Shopify is not an ERP system. While Shopify is a popular ecommerce platform that provides tools for managing product listings, inventory, orders, payments, and basic reporting, it does not offer the comprehensive range of features associated with an ERP system.
If your business requires capabilities beyond ecommerce, such as financial management, procurement, advanced inventory control, manufacturing planning, or customer relationship management, you may need to consider a full-fledged ERP system alongside or integrated with your Shopify store. In such cases, you can explore ERP solutions that offer integrations or connectors to Shopify, allowing you to synchronize data between the two systems.