To achieve sustainable growth and operational excellence, businesses need robust tools that will help streamline business processes, enhance collaboration, and provide real-time insights into their operations. Our comprehensive review of Odoo ERP is designed to introduce you to what is being called a 'new generation' enterprise software. We review Odoo's advantages, key features, apps, pricing and usability before considering the disadvantages of Odoo ERP.
We aim to keep our Odoo ERP review honest and tailored to business owners and leaders in New Zealand, where this business software suite is still relatively unknown. 
Let's begin with a thorough introduction to Odoo.
Table of Contents
---
What is Odoo?
Why is Odoo's relatively small presence in NZ of benefit to you?
What our customers are saying about Odoo.
8 key features of Odoo.
Odoo Pricing.
Odoo Community vs Odoo Enterprise
Odoo 2022 reviews and ratings.
Disadvantages of Odoo.
Is Odoo the best ERP?
Should you choose Odoo?
Odoo is a global leader in open-source business management software. A 'pick and mix' suite of business management tools (or applications) designed to improve the productivity of every staff member, across every business function, and within varying industries. 
While decades younger than traditional ERP players like SAP, Netsuite, and Microsoft Dynamics - Odoo has already rocketed in popularity and is considered one of the top 3 ERP systems for small businesses.  
With revenue growth consistently above 50% over the last ten years, plus a significant funding boost in 2023, Odoo's sustained, strategic global growth is testament to a focus on innovation, product and affordability.
What makes Odoo unique and has earned the organisation the title of a "disruptor in the SME software market" is it's adaptability to meet the dynamic needs of small to large businesses with scaleable apps that can be added if/when needed. Full integration between CRM, eCommerce, accounting, manufacturing, inventory, point of sale, document management, project management (and more) form a flexible ERP system that molds to the needs of your business. 
This diagram shows an eco-system of core applications using the new app icons that will be released with the Odoo 17 version release in October, 2023.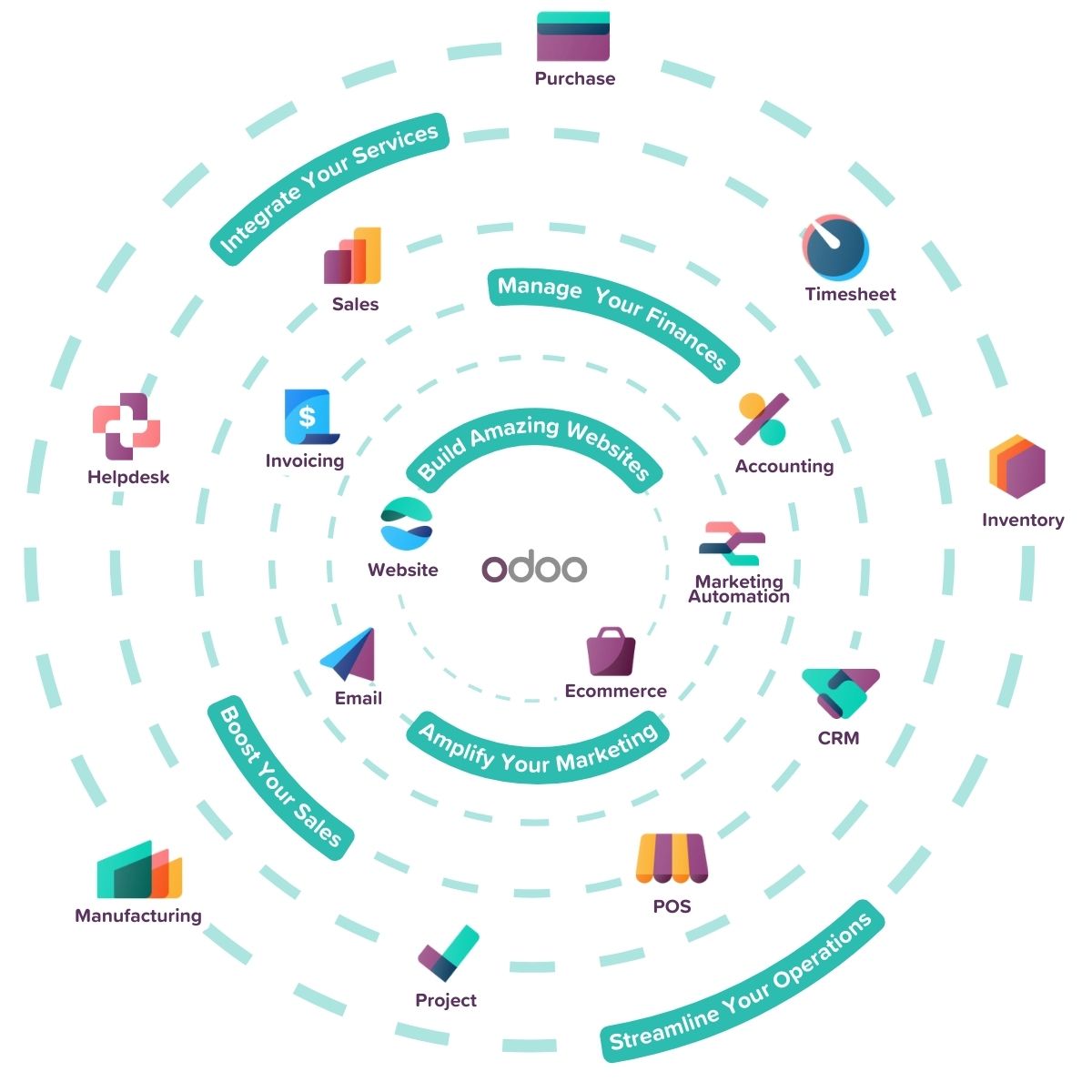 An ERP is often described as the backbone of a business. ERP tools enable business leaders to improve performance while simplifying operations, streamlining workflows and eliminating pain points. However, not all tools are created equal and if you're implementing a system of such importance, it is critical that the solution is a good fit now but also has the ability to scale and grow over the next 15+ years. 
With Odoo, Wedoo can give clients the flexibility of tackling the most pressing needs of the business first with the knowledge that further apps, functionalities or customisations can be built in as the needs of the business change.
"What attracted me to Odoo is the simplicity of a really powerful and rich application. It's Cloud based so you can deploy it over Cloud. It also runs on a browser, you can deploy it on premise. If you think about how our phones operate today, all of us have got app based phones, like Android or Apple, everything is app based. Well, that's Odoo. Odoo is app based. If you want to download and install the help desk functionality, there's an app for it. Or if you want invoicing or sales management, there's a module or app for it." 
Director - Wedoo, Awie Van den Berg

We know that the average Manufacturer uses around 10 different software applications to run their business. This is true across many other industries as they are often looking to piece together cheaper, single solution software applications (like Xero, Simpro, Mailchimp etc) that will meet the needs of each department. This is a result of traditional ERP systems being prohibitively expensive to implement and run, especially for NZ based businesses and/or SMEs.
Integrating disparate software applications can be expensive, time consuming and inefficient as SME's grow. This is where Odoo has successfully swooped in. Positioning themselves with the business scope of the big players in the ERP market whilst delivering the ease of use that users of single software apps have become accustomed to (eg Mailchimp, Slack and Xero).
With over 7 million users globally, why are there very few in NZ? 
Odoo is one of the fastest growing ERP systems in the world and just 3 to 4 years ago, was not known in the NZ market at all.
There are two main reasons for the slower uptake of Odoo in NZ:
Odoo's Open-Source nature, with Belgium Origin: Open-source software has never been a leader in the NZ market and most businesses are very much Windows based. It is evident that those countries where free/open-source software is appealing are where so many of Odoo's initial users come from. Along with dev offices in Belgium, the differing time zones made support difficult and slow. The tide turned however, once Odoo set about becoming a fully commercialised offering by providing a formal release with a powerful sales and marketing engine. Backed up with full support and offices around the world, Odoo is burgeoning with users and quickly grew from 3 to 7 million users within a few years.
Localised Investment & Knowledge: Introducing an ERP system as an offering takes a lot of effort and expense. Hence there has been a lack of credible, experienced vendors in NZ with the ability to make the investment required to take Odoo to the nation as a viable ERP solution.  Odoo was not localised for the specific needs of New Zealand businesses and therefore significant investment was first required to tailor this powerful ERP system to those needs. Wedoo has since built countless localised functionalities that make Odoo an accessible, affordable and flexible ERP in NZ. 
| "We have trained and built our resources up to where they are now" 
Raju Pillai - Director, Wedoo
| "After selecting Odoo as our flagship product, Wedoo entered the market with the product not as a side solution but as our primary company offering. This means we do Odoo differently. More professional, more focused." 
Andrew Telfer - Director, Wedoo
Why is Odoo's relatively small presence in NZ of benefit to you?
New Zealand is a nation of SME's. Often small and medium sized business are low on resources, lacking the human capital to manage a full ERP implementation to completion, and also lacking the funds required to invest in a full ERP solution. With Odoo however, implementation can be managed in phases.  Starting with the apps that meet immediate needs and then scaling the solution in a way that allows your business to continue moving forward.
With the release of Odoo 16 in October 2022, Odoo also made the full suite of business applications available for a single per user, per month price (having previously been offered with an additional per app charge). Odoo's pricing is straight up, easy to understand and completely transparent. So matter how many apps you end up needing, your subscription rate will not increase.
Becoming an early adopter of Odoo in NZ provides a significant advantage to any industry by improving, automating and applying efficiencies to business processes whilst developing a single platform that will allow for rapid growth. 
Such flexibility combined with affordability makes Odoo's software an ERP solution sought by small and medium sized companies experiencing growth.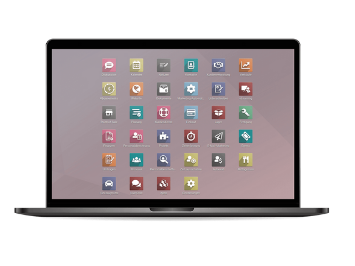 What customers are saying.
Some of the benefits we hear our customers reflect about Odoo include:
Using Odoo "Wedoo helped us build a customised system for better control over and insight into our multi-faceted business. The previous system we used didn't do this for us."
Odoo has streamlined manufacturing processes. Our people love using Odoo software because the user interface is easier to navigate than the mix of third-party apps we used previously.
Odoo is super convenient as a cloud-based solution.
Odoo has been easy to extend with fully integrated apps that have streamlined what used to be such a complicated process for our administration team. 
It has a wide feature set that can be configured to each specific department
"Odoo is a fantastic all-in-one "integrated" accounting, sales, marketing and administration package that provides up to date and accurate information".
We were using Xero in addition to running very complex and labour intensive spreadsheets to run our unique business. We knew we would need a flexible, easily customisable ERP software that could be tailored to our needs. Odoo has been that solution.
Efficiency.  Odoo Documents especially, has allowed our organisation to collaborate and access documents from anywhere, on any device.
"Having come from an organisation that used NetSuite, I am blown away by the scope and simplicity of Odoo. It is far easier to use."
You can read NZ ERP success stories here.
8 key features of Odoo
Open-Source Software Model: What we love about Odoo is that its open-source model allows it to stay relevant with the speed of light changes in the business performance world. With an active community support network readily available and contributing to thousands of integrated apps, which can often be free!  
Easily Customisable: Because Odoo is an opensource ERP software, developers and programmers all over the world have access to the source code. This means implementation partners like Wedoo, have the ability to scope business processes and design software systems that solve specific business challenges. As long as you work with an Odoo partner that is skilled and disciplined, who will develop properly and with detailed documentation, the open-source software is a huge advantage.
Wide Range of Core Modules: Seamless integration across all of the core Odoo module provides one unified platform for any company size. Manufacturing, HR, CRM, eCommerce, Accounting, POS and Project Management. Multiple applications are fully integrated across all business functions and accessible from a simple user interface. A key trait of a great ERP software.
API Friendly:

Another Odoo

 perk is that it is very API-friendly. This allows for integration with other applications. Imagine connecting Odoo with everyday applications like Amazon, QuickBooks, WhatsApp, and about 16,000 other 3rd party apps.
Cost Effective: A single, per user price for the full suite of apps. From a cost perspective, Odoo allows you to start small and basic, then add as many modules or apps you need, when you need them. Perfect for any sized business.
ACTIVE Community SUPPORT: The open-source model of Odoo has additional benefits from a support standpoint. Open-source communities by nature are very generous with their time and help. There are always several developer forums online that you can find. Reading through previous Q&A's or asking new questions to the Odoo community is all part of the open-source experience, so you're never alone.
User Friendly:

Ultimately

, it doesn't matter how good your ERP software is, if your staff can't use it properly, it is useless! Odoo delivers a modern and elegant technical design with high usability that scales across all apps. Improvements are continuously and automatically applied, ensuring a top-notch, user-friendly design.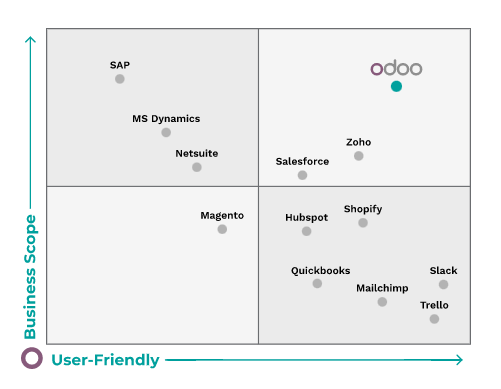 Odoo's Core Modules
Odoo CRM
Odoo CRM is a customer relationship management software that helps businesses manage their customer interactions and data. It offers features such as customer management, contact management, lead management, sales pipeline management, and more. The CRM module can help businesses better monitor, develop and build insights from their customer data and interactions.
Odoo Accounting
Odoo Accounting is an important core module. Small businesses may even start with Odoo accounting as a free version of Enterprise (making use of the one app free forever offer) and add more apps as they grow. 
There are many accounting software offers on the market, capable of providing the features and reporting functions your business requires. Read our full outline of the Accounting app to learn what differentiates Odoo Accounting from the pack and how can you be sure it is the best choice for your business. 
Inventory
Odoo's Inventory management application is a comprehensive and versatile tool that allows businesses to efficiently manage stock and inventory. For growing businesses using standalone accounting software like Xero, inventory management is often the first hurdle that motivates the search for a more comprehensive software. Again, being built in the easily understood python language, it is possible to customise the software to very precise inventory and warehouse management requirements. 
With most Manufacturers using over 10+ applications to manage their business, it is integral that the business consolidate their data into a single platform for greater visibility. Odoo software has so many features across as many modules, yet can centralise data so that business leaders can monitor, develop and optimise the manufacturing process. Choosing Odoo software means your solution can be implemented on a private server, or implemented on premise making it an essential choice for many.
Project management
Odoo project management is a powerful tool that can help keep track of all your ongoing projects. It provides visualizations like charts and Gantt charts to show how tasks and projects are progressing, as well as functionalities for managing people, tasks, due dates, etc. Overall, Odoo project management makes it much easier to handle multiple projects at once.
Point Of Sale
Odoo Point of Sale is easy to use and flexible, perfect for any retail company. It can be accessed on any device and works online or offline. Plus, it's fully integrated with the Inventory and Accounting modules so all transactions made with the PoS will be automatically reflected in your stock along with your accounting records. With Odoo CRM module integration, you can even manage your customers easily.
Read our complete guide to Odoo's modules including full list of Odoo apps.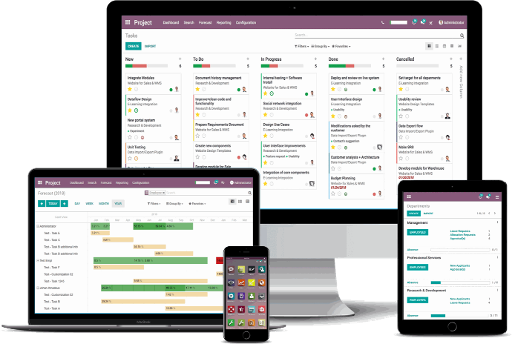 Is Odoo really free?
To answer this question correctly, we need address to things:
Odoo Enterprise

- the version of Odoo that the majority of businesses in NZ will be looking to implement.

Odoo Community

- the free version
Odoo Enterprise is not a free ERP, however it does offer 1 app free, forever. The app will remain free while you are using it as a stand-alone app. Take the Accounting Module as an example. If you're selecting this module in Odoo's pricing calculator you will notice it also comes with the invoicing app (they need each other in order to operate). No matter how many users you require, this app remains free. A perfect, fully functional Accounting software to get you started.
The catch? Well it's not really a catch but as soon as you add more apps, you will begin paying the per user, per month rate which gives access to the full suite of Odoo apps. 
However, as businesses grow, so do the complexities and requirements to operate efficiently. While Odoo can be applied with a relatively basic budget of a small business, for growing businesses it is not a matter of just plug and play. Just like any comprehensive software, it takes expertise to implement the right solution. There is a need to invest in tailoring the software to your company's needs, which is why working with an Odoo partner is recommended for a successful implementation.
All in all, the modular architecture of Odoo allows faster implementation timeframes which does minimise implementation costs and lower total cost of ownership. 
Odoo Community on the other hand, is a completely free, open-source software that can be downloaded here: Community | Odoo. However, it does not include all of the apps that the enterprise (paid) version offers.
Odoo Community is also the source of many bad reviews online. It is not supported by Odoo, so if you need help, you will have to find it elsewhere or pay for a support contract. Because of these reasons, we do not recommend using Odoo community unless you have an internal dev team who can craft and maintain it.
Odoo Pricing
Since 2023, Odoo reduced and simplified the price of Odoo Enterprise. Access to the full suite of ERP apps starts at just $22.60 USD per user, per month. Implementation costs will differ depending on the ERP partner you choose. More experience should result in a shorter implementation timeframe and less cost overall.
Odoo Community vs Odoo Enterprise. What you need to know.
Community is the free version, a more basic offering from Odoo that is available from their website.  This basic version remains free as it is completely open source and does not include many of the updated functionalities, modules and apps that the Enterprise edition does. In fact, downloading the community version is a great (and free) way to get a good feel for the software. However, when it comes to configuring and customising the software based on your specific needs, you're best to engage an experienced Odoo partner. 
Odoo Enterprise is a paid, licensed and shared version that is more flexible to business functionalities. The Enterprise version offers functional support, frequent version upgrades and the ability to utilise and integrate any of the Odoo apps available across Finance, Sales, Websites, Inventory & MRP, HR and Marketing. A table view of the comparison of these Odoo Editions is available here. Again, working with a local Odoo Partner will ensure you have access to an accredited ERP consultant that will best guide you to the modules and apps that best enhance your business.
Odoo 2023 Reviews & Ratings
The company has been criticised by some reviewers for its steep learning curve, customer support and lack of feature parity with other ERP software suites. As mentioned above, many of these reviews are the result of using the free version, Odoo Community and/or businesses trying to implement Odoo software with the company directly. Localised Odoo partners who understand your business process and requirements will be integral to the success of your implementation. However, Odoo has also received positive reviews from users who appreciate its modular design, flexibility, and low cost.
There are some informative reviews available at G2
Disadvantages of Odoo
You only need to visit popular software review sites like Capterra to uncover bad Odoo reviews. Time and time again it is obvious that implementation success heavily relies on your choice of an Odoo Partner. Implementing software into a business is a great undertaking and should be carried out by a specialised team of Odoo consultants. A specialised team will have years of business analysis experience across multiple industry sectors. It is the combination of technological knowledge with business know-how and localised experience that makes the best Odoo consultant. Look for a Gold Partner, with the most experience in your country to save you the pain!
Odoo's customer service team is another factor which let's their ratings down. It is evident among the worst reviews that customer service is not attentive enough, even when a support pack is purchased. Again, Partners! You need a guaranteed and responsive support agreement in place to ensure you are never left high and dry before, during or after implementation. 
Odoo does require complex configuration and setup. The initial, long learning curve is a steep one. However, due to the open-source nature of Odoo, there are many developers out there that believe they have the skills required to install the software (which can be simple). However, as complexities grow, issues compound. Installation, configuration and setup need to be done right the first time by those who know the technology inside and out. When choosing Odoo, look for local partners with testimonials that prove they have completed that long learning curve!
When we spoke to our current Odoo customers they told us another downside of their initial Odoo experience was a the perception of a complicated pricing model. As of October 2022 however, Odoo simplified their pricing model to a single per user, per month charge with only 2 tiers available. 
Is Odoo the best ERP?
There is no simple answer to this question, as "best" is certainly a relative term. However, we can say that Odoo is widely recognised as one of the top ERP platforms on the market today. Its broad suite of features and functions, along with its flexibility and scalability, make it a popular choice for businesses of all sizes.
Odoo boasts so many features that solve so many business challenges. We've implemented Odoo for businesses in the professional services industry as well as manufacturing, retail and government. We've customised software for a client in the construction industry with very complicated processes to achieve an overall increase in efficiency for the company. Whether it be financial management, supply chain management, inventory management, warehouse management or complex manufacturing operations, we have been able to minimise costs and streamline operations for our customers.
Odoo can be hosted on premise making it a good choice for companies who prefer to maintain control on all aspects of their data. It can also be used as a cloud-based solution, hosted with Odoo.sh or on a private server. Ideal for companies who want the flexibility and scalability that the cloud offers.
When making a decision about which ERP platform to choose for your business, it's important to evaluate your specific business needs and requirements first. Then search out the best, local implementation partner who will make the technology work for you.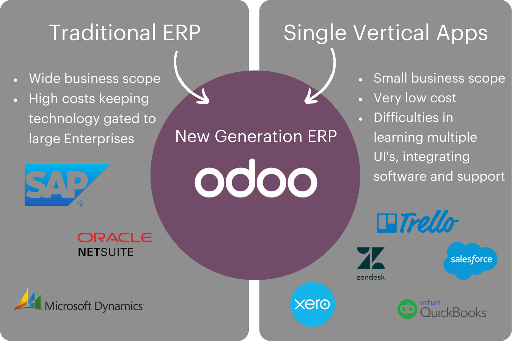 Should you choose Odoo?
Skeptical at first, the entire Wedoo team has developed a passion for Odoo's suite of business apps. Wedoo is now the largest team of Odoo experts in NZ, having developed and contributed to many customised Odoo solutions and applications. Their combined experience with Odoo and real world results have helped NZ businesses thrive and grow, enabled by what we believe is an amazing software.
Based on implementations to date, customer feedback and decades of expertise in implementing and crafting ERP and software solutions for businesses across Australasia, Wedoo is confident in recommending Odoo. 
We hope this Odoo ERP review has given you the information you need to make a more informed decision in your choice of business management software.