Introduction
As you navigate your options to find the best business management software solution, you've likely discovered that Odoo stands out as a versatile and powerful option. With its vast array of modules and customisable features, Odoo warrants further investigation.
Now, as you delve deeper into the Odoo ecosystem, you discover Odoo has two editions available that have you facing a critical decision: Should you opt for the Odoo Community edition, roll up your sleeves, and take a DIY approach to implementation? Or is it wiser to collaborate with an Odoo partner, and unlock the full potential of the Odoo Enterprise edition?

Both paths offer their unique advantages and challenges, and in this blog post, we'll delve into the key differences between Odoo Community and Enterprise. We will explore the features, benefits, and limitations of open source Odoo vs Paid to help you make an informed choice.
Odoo Community
Odoo Community is the free and open-source edition of the popular ERP platform, Odoo. This edition does not include all of the apps and functionality of Odoo Enterprise and earns the name 'DIY Odoo' because it must be self-hosted and maintained. For this reason, the Community version is most often used by developers for testing purposes. Or, in the case of a DIY approach to Odoo, a team of developers with the technical expertise to configure, maintain, and add customised functionality on to this 'basic' edition of Odoo.
Odoo Community Features
The Community edition of Odoo runs on Ubuntu, Windows, and other popular operating systems. However functional support, version upgrades and hosting are not included. The user interface will operate on desktop through your web browser but is not available on mobile devices.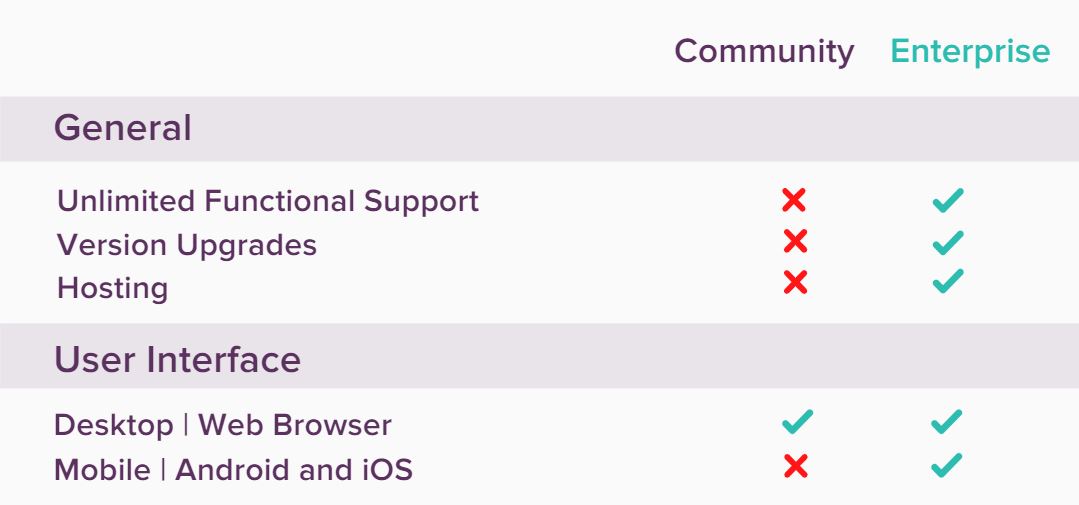 Full functionality of some apps are available in Community while other apps are available with only limited functionality.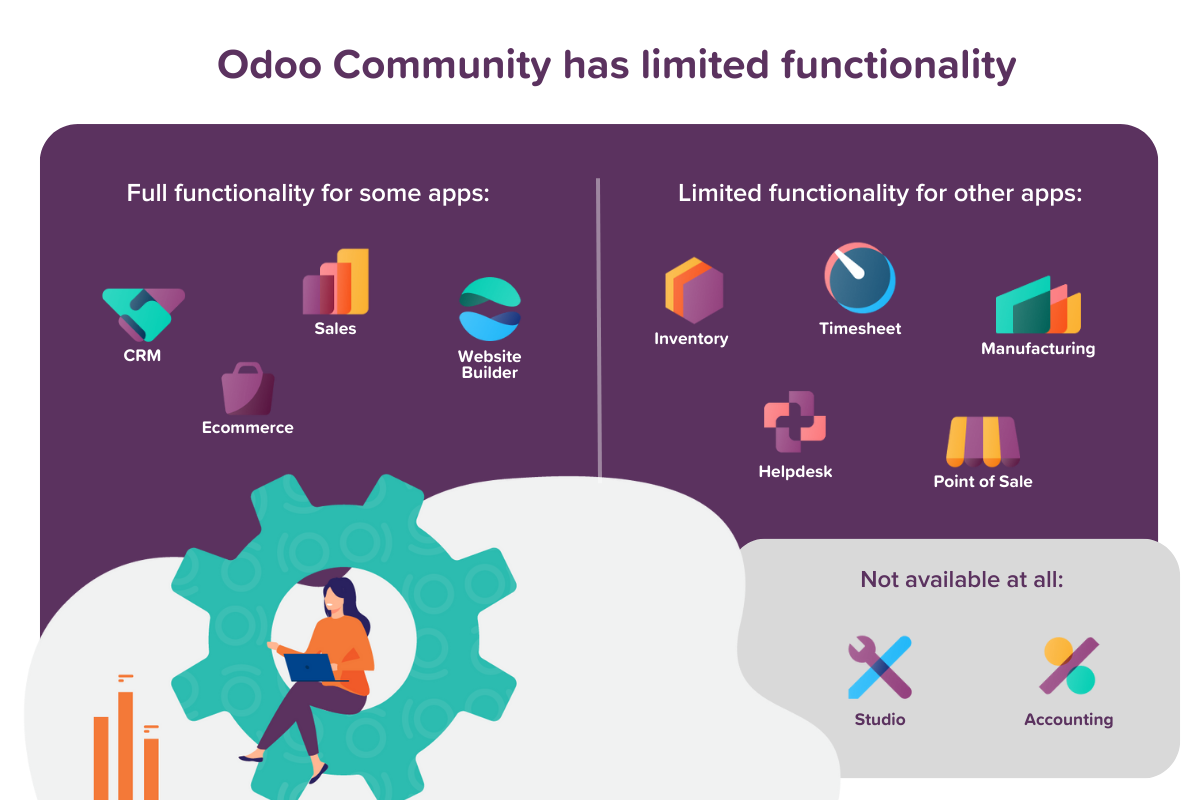 List of Odoo Community Apps:
CRM (full functionality)
Invoicing (limited functionality)
Expenses (full functionality)
Sales (full functionality)
Website Builder/eCommerce (full functionality)
Point of Sale (limited functionality)
Inventory (limited functionality)
Manufacturing (limited functionality)
Purchase (full functionality)
Maintenance (full functionality)
Discuss (full functionality)
Notes (full functionality)
HR (limited functionality)
Employees (limited functionality)
Recruitment (full functionality)
Time Off (full functionality)
Fleet (full functionality)
Social Marketing (full functionality)
Email Marketing (limited functionality)
SMS Marketing (full functionality)
Surveys (full functionality)
Project
Timesheet (limited functionality)
Calendar (full functionality)
Odoo Accounting and Odoo Studio are not available in the Community edition.
Key Benefits of Odoo Community
There are some key benefits of Odoo Community and these include:
Cost Effectiveness
Perhaps the most apparent advantage of Odoo Community is the cost-effectiveness. Available for free, the financial flexibility could be attractive to start-ups and smaller businesses on tight budgets. It is important to note however that Odoo Community is typically used for testing or by developers who are familiar with Odoo's architecture. It is self-hosted which means you would need to run and maintain the system and have the expertise and resource build and configure the software properly. 
If you're considering DIY Odoo, be sure to read the common road blocks of this approach in our blog.
Flexibility
This free, basic version of Odoo is fully open source which means the source code is publicly available for developers to use and customise. This empowers developers all over the world to build adaptations that will fit the varying needs of business from all types of industries across the globe.
Continuous Improvement
Aptly named, it is actually the global community of developers, enthusiasts and users from around the world that form a key advantage of Odoo Community. The community is highly involved and active in creating the largest business app store in the world, delivering apps and modules that add to or tailor the software for specific requirements. There are plenty of plugins and modules available to extend the functionality of the platform in the Odoo App Store. Some come at a cost, others are free.
Limitations
While Odoo Community offers a robust set of features, there are some limitations to consider. 
Support
First and foremost, as an open-source solution, there is no official support available directly from Odoo. This means that you would have to rely on community forums or third-party support providers for assistance.
Functionality
Additionally, certain advanced features and functionality, such as accounting, full inventory management, and comprehensive human resources management, are only available in Odoo Enterprise. Odoo Community may not be suitable for businesses that require these features at a high level.
Localisation
Localisation is a significant limitation of Odoo Community. Catering to a global audience, country-specific modules that are crucial for complying with local laws and regulations are not included or regularly updated. 
The ability to find support from the large, global community that is relevant to the specific needs of your business or location will also be difficult to find.
In regions like New Zealand for example, businesses benefit from working with a local Odoo partner who specialises in navigating and maintaining the specific legal, accounting, and tax landscape of NZ within the platform. Accessing such specialised support is more commonly available through the Odoo Enterprise edition.
Odoo Enterprise
Odoo Enterprise is the commercial edition of Odoo and offers the full suite of Odoo apps and functions. With a single, per user fee for access to all applications, the app ecosystem is designed to easily expand as you grow without limitations on features. Odoo regularly update the interface and functionality of Odoo Enterprise and make the upgrades freely available to all Enterprise users.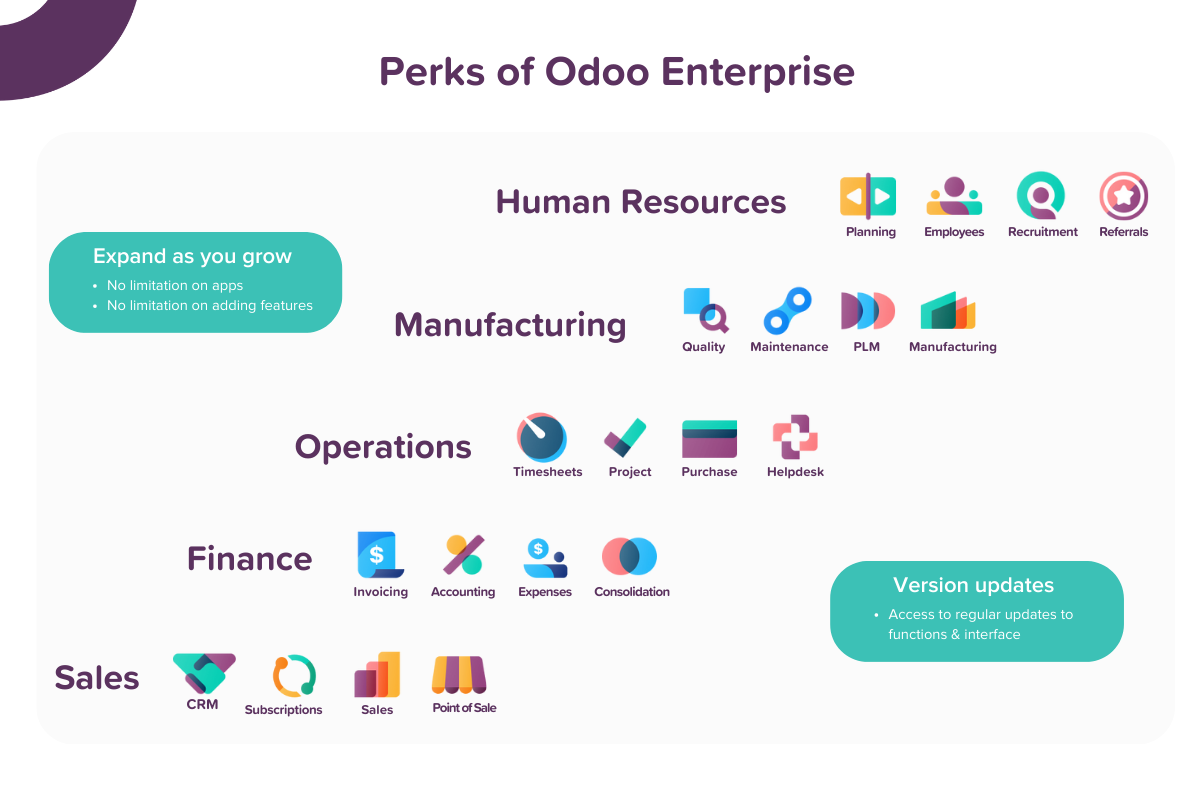 Odoo Enterprise Features
Access to all Odoo apps and features includes:
Advanced Accounting: Comprehensive financial management tools, including budgeting, analytic accounting, and more.
Advanced CRM: Enhance customer relationship management capabilities, including lead scoring and marketing automation.
Loyalty Programmes: Only available in Enterprise, implement customer rewards and retention strategies.
Advanced Inventory: Advanced warehouse management features, such as multi-locations and advanced routing.
Advanced Manufacturing: Additional tools for managing complex manufacturing processs, including MRP II.
Project Forecasting: Accurately forecast project timelines and budgets.
Quality Management: Manage quality control processes and ensure compliance.
Odoo Community vs Enterprise Features Comparison Report
Download our comprehensive, side-by-side comparison.
K

ey

Benefits of Odoo Enterprise
The main advantages of Odoo Enterprise vs Odoo Community include access to regular version updates, unlimited scale of apps and features, access to specialised support, and the ability to easily customise the software to your exact needs:
Continuous
 Innovation
As a company, Odoo continuously invests in improving the speed, security, functionality, and interface of Odoo Enterprise and make these improvements freely available to all Enterprise users. That means you obtain access to the very latest technologies that will enhance the productivity of your business and make continuous innovation a reality within your business.
Expand as You Grow
The subscription or licensing fee of Odoo Enterprise starts at $22.60USD per month, per user. This gives access to every app you could possibly need to run your business. The modularity of the apps also allows you to implement each app as and when your business needs it. That is true scalability that won't hinder your business growth plans.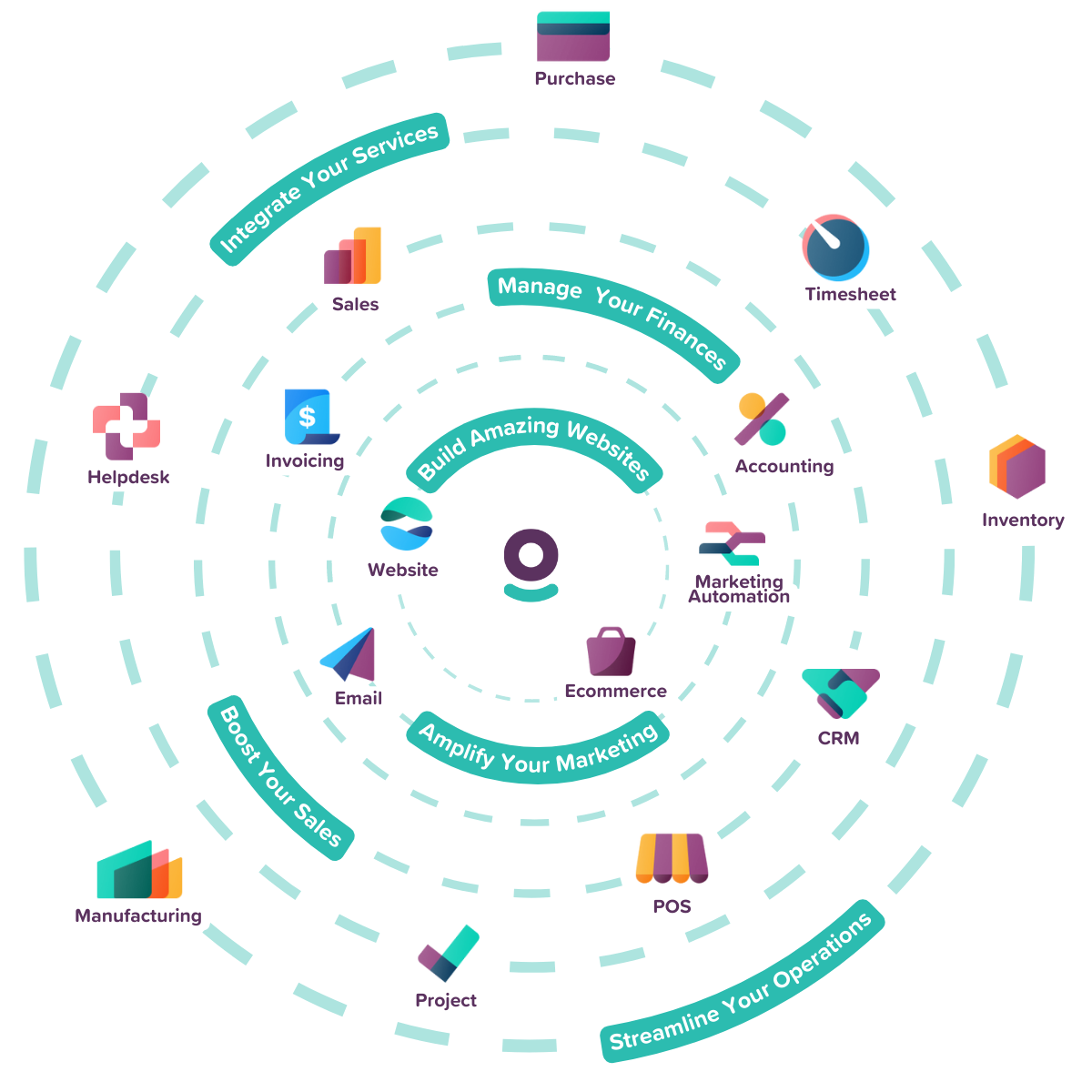 Flexibility
Unlike standard proprietary ERP vendors, Odoo Enterprise benefits from Odoo's open source nature. While the source code of Enterprise is not freely available to the public like Odoo Community, Odoo's network of Partners do have access. This allows you to work with an Odoo Partner to scope and configure a customised business management solution that is unique to your needs, without the high cost of customisation that usuallly comes with the traditional, proprietary ERP vendors.
Support
Smaller businesses with simple implementation needs may choose to work directly with Odoo to implement modules for their business. In this case, support 'success packs' are included and/or can be purchased to ensure you have access to specialised support.
It is important to note that for New Zealand businesses or for those in countries that do not have localised Odoo support, it is recommended to work with an experienced Odoo Partner. This will ensure you have a dedicated support team who knows your business, is in the correct time zone, and has built the localisations needed to make Odoo work for you.
Flexible
 Hosting
With Odoo Enterprise, you can choose to host your database yourself, with a third part provider, with Odoo Saas, or use the Odoo.sh cloud platform. The flexibility of hosting options means your needs are not compromised.
Limitations of Odoo Enterprise
The main limitation of Odoo Enterprise compared to Odoo Community is cost. As a commercial product, Enterprise comes with a subscription fee, which may not be suitable for all budgets. However, when compared to other business management software solutions, the Odoo Enterprise price actually stacks up as a very affordable ERP.
Another limitation of Enterprise vs Community is the level of customisation available. You will need the help of Odoo specialists if you require extensive customisation. Even then, your Odoo experts need to have the product knowledge and technical expertise to build customisations correctly and in a way that will allow for all future version upgrades to take place without breaking customised functionality.
Conclusion
In conclusion, both Odoo Community and Odoo Enterprise have their own strengths and limitations. Odoo Community is a free and flexible solution that can be a good fit for smaller businesses or for testing purposes. It provides some essential features for managing core business operations, although some functionalities have limited availability.

On the other hand, Odoo Enterprise offers a comprehensive set of features and official support, making it a suitable choice for larger enterprises with more complex requirements. While it comes with a subscription cost, the business scope of Odoo can justify the investment for businesses that require advanced functionalities and seamless integrations.

Ultimately, the choice between Odoo Community and Odoo Enterprise depends on your specific needs, budget, and long-term growth plans. It's important to evaluate your business requirements and consider the advantages and limitations of each option before making a decision. 
FAQ